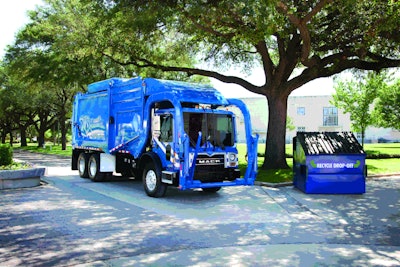 Mack Trucks today announced a collaboration with Shell to coordinate efforts and support activities that encourage the use of Liquefied Natural Gas (LNG) as a fuel for commercial vehicles.
"Mack has had natural gas-powered vehicles in customer service since 2009, and we look forward to working with Shell and other fuel providers to further support the burgeoning natural gas truck market here in North America," said Kevin Flaherty, president of Mack Trucks North American Sales & Marketing.
The agreement will foster collaboration on multiple issues, including emissions and fuel specification, as well as increased knowledge sharing. This agreement is not exclusive and does not prevent Mack from working with other partners.
Mack has long been a leader in alternative driveline solutions, and began offering a natural gas-powered MACK® TerraPro™ refuse vehicle when it became clear that natural gas was a viable heavy-duty truck fuel for closed-loop applications.
The company also recently delivered its first natural gas-powered MACK® Pinnacle™ model, offering an LNG solution for on-highway applications. Mack also announced plans to launch a natural gas-powered Mack Granite for the construction segment in 2013. Both models will be equipped with the Cummins Westport ISX12G spark-ignited engine, which can run on LNG as well as Compressed Natural Gas (CNG).