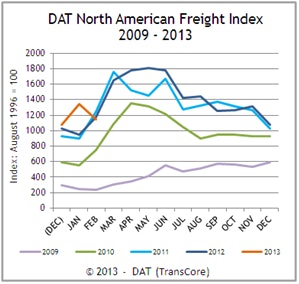 On the heels of a January that set a DAT record, the company's North American Freight Index sunk in February back to what DAT is calling "post-recession freight volumes," declining 14 percent from January and 2.5 percent from February 2012.
The index measures spot market freight availability in the U.S. and Canada. Freight availability year over year varied by type of equipment, as van and reefer freight surged at the end of February, bringing each a more than 7 percent increase year over year. Flatbed freight, however, declined 11 percent from February 2012.
From January, reefer and van freight plummeted, as van load availability fell 11 percent and reefer availability dropped 15 percent. Flatbed freight month over month was flat.
Moreover, van rates were the only ones to rise month over month in February, moving up just 0.8 percent on the spot market, with reefer declining 6 percent and flatbed falling 7.5 percent.
The rates are derieved from $18 billion worth of transactions and include linehaul rates without fuel surcharges.