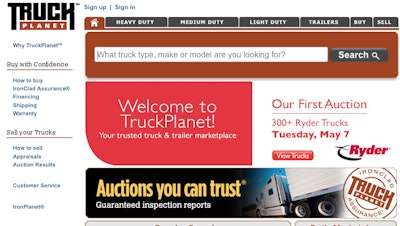 TruckPlanet, a spur off of used equipment selling site IronPlanet, launched last week and is a site dedicated solely to buying and selling commercial trucks.
IronPlanet has been selling used equipment online for more than 10 years, and the company's seen more than $3 billion in transactions take place on the site, it says, including $500 million in truck sale transactions.
The company says TruckPlanet is designed to connect truck buyers to truck sellers and vice versa through online auctions. It also includes protections for buyers in the form of the IronClad Assurance program, which provides guaranteed inspection reports to "allow customers to bid with confidence," IronPlanet says.
The first auction will take place May 7 and will consist over about 300 Ryder trucks.
For more on the new site, visit TruckPlanet.com.