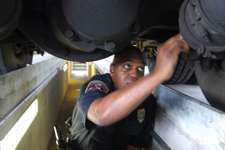 Mark your calendars: The Commercial Vehicle Safety Alliance's annual inspection blitz is scheduled for June 4-6, the 72-hour period in which roughly 10,000 inspectors at 1,500 places in North America perform truck and bus inspections.
Last year, nearly 75,000 truck inspections were performed by members of local, state and federal inspectors, producing a 22.4 percent ouf-of-service rate for vehicles and a 3.9 percent out-of-service rate for drivers.
CVSA participants also include the Federal Motor Carrier Safety Administration, Pipeline and Hazardous Materials Safety Administration, Canadian Council of Motor Transport Administrators, Transport Canada and the Secretariat of Communications and Transportation.
Since 1988, Roadcheck has conducted more than 1 million roadside inspections.