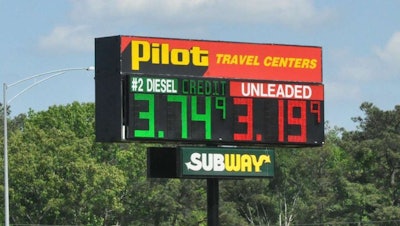 The outstanding lawsuits against Pilot Flying J will not be consolidated, per a ruling from a U.S. Judicial Panel on Multidistrict Litigation, who asked to defer its ruling to the nationwide settlement made in an Arkansas court last month.
Consolidating the cases, the court said, would delay the settlement proceedings of the Arkansas court's class settlement and effectively disrupt the process of plaintiffs who have not yet had the chance to participate in settlement discussions with Pilot or object or opt out of the settlement.
"…we find that centralization at this time will not serve the convenience of the parties and witnesses or promote the just and efficient conduct of the litigation," the court wrote in its order denying the transfer.
"It is not possible to predict the contours of the litigation, and whether centralization will be beneficial, if and after the settlement is granted final approval," the court wrote.
Thesettlement reached last month between Pilot and other plaintiffs in class action litigation requires Pilot to pay back what it owes to carriers in fuel rebates, along with 6 percent interest. The owed amounts will be approved by a court-appointed accountant. Carriers have until Oct. 15 to opt out of the settlement.