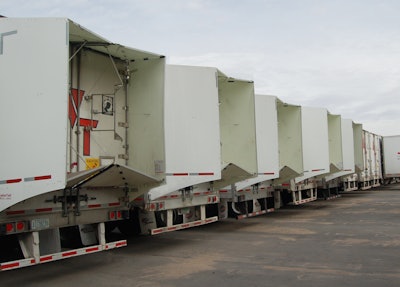 ATDynamics is continuing to plug away on its self-stated goal of retrofitting all 4 million trailers globally with its TrailerTail, announced the company's VP of Sales, Kyle Houston, at a press event at The Great American Trucking Show in Dallas, Texas, Aug. 22.
The company in the last three years has seen overall growth in sales of 1,255 percent, Houston said, and has sold to this point 20,000 TrailerTails.
In its larger quest of worldwide adoption, however, Houston says the company has a short term goal of reaching 50,000 total units sold by the end of 2014.
Worldwide adoption would save the industry $40 billion over a ten-year period.
ATDynamics is currently aiming for adoption in the North American market, primarily in the U.S. and Canada, which together have 2 million trailers. But, Houston said, TrailerTails will soon be available in Mexico due to a new partnership with Mexican-based supplier Andromeda.
TrailerTails in the U.S. have logged 800 million real-world miles, and the company recently inked deals with large fleets Roehl and Prime, in which all new trailers the two buy will be equipped from the factory with the aero devices.
TrailerTail works off of the premise that the largest fuel savings immediately available to tractor-trailers are eliminating the vacuum of air caused by the right-angled end of van and reefer trailers, Houston said. TrailerTail works to mitigate that.
[youtube ZUXvSYSLLoE nolink]
The device can be installed by two people in less than an hour, Houston says.
In the video below, owner-operator Bob Caffee demonstrates how to disengage the TrailerTail after use to allow the trailer's doors to open. Caffee is a member of the Freightliner Team Run Smart program, in which Freightliner supplies him with a 2014 Freightliner Cascadia Evolution to show off the truck's fuel economy.
Caffee and his wife Linda drive team hauling FedEx Custom Critical freight.
Bob and Linda average more than 11.5 mpg with the Evolution and a mix of aerodynamic devices like the TrailerTail: