IdleAir continues to expand. The truck stop electrification service company used the rostrum at the Great American Trucking Show in Dallas announce additional parking spaces at travel centers and dedicated fleet terminals in the Lone Star State.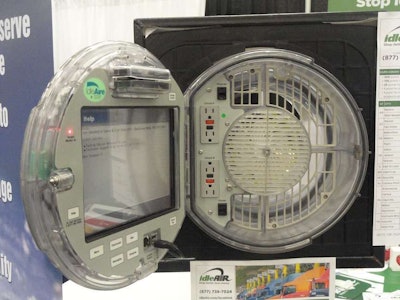 Among its projects, IdleAir recently has completed construction for a fleet facility with Transportation Services Inc. in Mesquite, Texas, and construction is underway for expansion in Laredo, Texas, on both the Flying J travel center and another major fleet terminal.
CEO Ethan Garber, speaking to industry press at GATS, emphasized the low marginal costs and subsequent multiplied benefits of a dedicated installation. With no minimum usage requirements and new financing options, fleets can quickly realize significant fuel and maintenance savings with an easy solution that is customized to their operations, according to IdleAir. Dedicated facility customers receive discounted pricing and a customized package of IdleAir services and support.
"TSI has been an excellent partner. By combining their sophisticated, vertically integrated logistics operation with IdleAir's dedicated terminal solution, TSI is positioned to gain immediate savings as well as improved safety and driver retention," says Garber.
The expansion strategy calls for a "hub-and-spoke system of fleet terminals fed by truck stop locations," he adds.
IdleAir has also begun to supplement its traditional overhead HVAC services. Along with the recognizable yellow hose system, IdleAir will install dedicated electrified pedestals in some locations. The company will open its first travel center with the pedestals at Cash's Truck Plaza in Port Allen, La., IdleAir says. Cash's will offer a reduced price "power-only" option via pedestals with 110 volt and 20 amp service.
IdleAir's alternatives to truck idling are designed to provide long-term savings by extending engine life and reducing wear and tear on diesel and battery APUs.
IdleAir, which has struggled through bankruptcy and ownership changes, recently celebrated its third anniversary operating as part of Convoy Solutions LLC. Since the "relaunch" in August 2010, IdleAir has expanded to 34 facilities representing approximately 2,000 electrified parking spaces in 12 states. The company says more than 40,000 professional drivers, including over 500 fleets, have signed up for the service, which includes air conditioning, heating, 120V electricity, high-speed Internet and DirecTV.
"We are proud of the tremendous progress the IdleAir Team has made," says Garber.