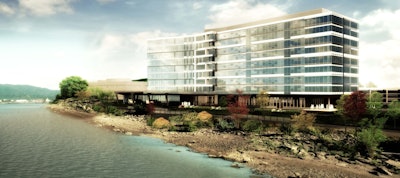 At a press conference held at Jeld-Wen Field, Daimler Trucks North America (DTNA) today announced its long-term commitment to Portland by unveiling plans that it intends to construct a new headquarters building and parking garage on its Swan Island campus. In addition, DTNA launched its Daimler Education in Motion program, which benefits Portland metro area and Southwest Washington schools with more than $330,000 in donations and mentoring programs geared toward career development in engineering and manufacturing.
The new 265,000 square foot corporate headquarters building will serve two distinct functions: to merge DTNA employees currently located in offices separated by the Willamette River and to accommodate approximately 400 new positions in Portland that the company anticipates it will need in conjunction with future business growth. The total project requires a $150,000,000 investment by DTNA and is expected to be completed in 2016. Local and State incentives are in the process of being finalized.
"As we prepare for our future, our new headquarters building in Portland will position us for long-term business optimization and efficiencies while enhancing the employee experience in a contemporary, environmentally friendly and technically advanced facility," said Martin Daum, president and CEO, Daimler Trucks North America. "We are pleased to announce these actions that underscore our ongoing commitment to the City of Portland and the state of Oregon."
DTNA is placing a priority on creating an environmentally-conscious plan with the goal to achieve LEED Platinum Certification, the most prestigious certification available through the U.S. Green Building Council. In addition, DTNA is working with the Port of Portland to significantly enhance the greenway that runs through the property along the Willamette River to promote better access and enjoyment by the public.
Oregon Governor John Kitzhaber joined the celebration today. "Daimler Trucks North America has been headquartered in Portland for more than 70 years, contributing significantly to Oregon's economy by producing world-class products and well-paying jobs," said Kitzhaber. "Oregon continues to be one of the most competitive states in the nation for advanced manufacturing, and the Daimler Trucks North America expansion bolsters that position."
"I'm thrilled that Daimler Trucks North America has announced Portland for its expansion," said Mayor Charlie Hales. "Daimler Trucks North America is a proven industry leader, and a committed community partner. This is great news for the local workforce – those working for Daimler Trucks North America as well as suppliers, subcontractors, and partners. I am confident Daimler will continue to flourish here in Portland, and I look forward to collaborating with them for years to come."
Architectural plans for the new headquarters will incorporate the latest technologies and features for increased operational effectiveness and enhanced employee experience. Aesthetically, the design will be aligned with contemporary Portland architecture and allow for public access to the riverfront. Design concepts for the new headquarters are currently in development in collaboration with a local architecture firm, Ankrom Moisan.