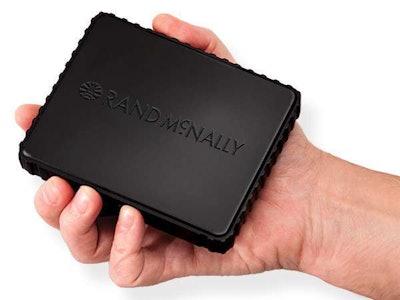 Rand McNally is set to release its HD 100 Electronic Logging Device (ELD) in retail outlets–primarily truckstops–in October. The company made the announcement to develop the low-cost mobile system in October 2012.
Drivers that own Rand McNally's IntelliRoute TND 720 truck-specific navigation system can add electronic logging, state-by-state mileage reporting, electronic vehicle inspection reports by purchasing the HD 100 for $299 which includes 6 months of wireless service.
The HD 100 is a small, wallet-size box that plugs into the vehicle's diagnostics port. As part of the installation process, drivers connect the device to a laptop to configure some settings for the type of hours-of-service rules they operate under. The device communicates with the TND 720 device through Wi-Fi to automatically refresh the driver's logbook and other information on the color, touchscreen display.
For drivers that want to connect their TND 720 device to a fleet office for integrated messaging, workflow and HOS information, Rand McNally says it can pre-configure an HD 100 with the fleet's account information for fast implementation.
Rand McNally says the HD 100 will also be compatibale with Android and Apple devices for fleets and drivers that prefer to use smartphones or tablets as the in-cab display instead of the TND 720 device. All functionality of the ELD application, including the driver interface, will be identical. The company plans to release the Apple and Android interface later this year.