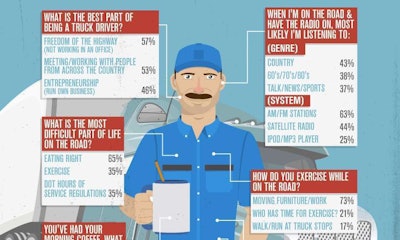 What's the "modern day truck driver" doing these days?
Well, like everyone else, accessing the Internet, says Atlas Van Lines' annual King of the Road survey of its drivers. Also like everyone else, they're using smartphones — according to its survey, 65 percent of drivers now use smartphones and more than half (56 percent) use social networking sites like Facebook and Twitter daily.
Moreover, 84 percent access the Internet daily, and 75 percent check email daily.
Atlas this year compiled an infographic based on its findings, which includes responses to how long drivers are on the road each year, what the best part about their job is, what they listen to, what they drink during the day and what their favorite fast food restaurant is.
Here's the infographic: