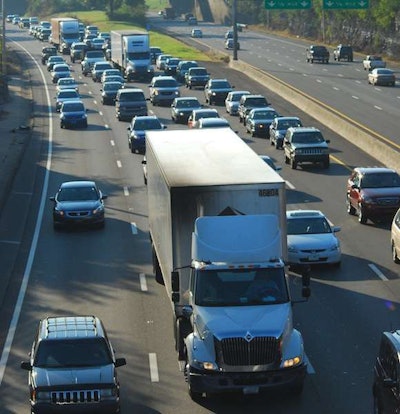 The Federal Motor Carrier Safety Administration and its regulatory programs will remain up and running during the government shutdown that went into effect at midnight, Oct. 1, after no government funding bills emerged from Congress prior to the appropriations deadline.
FMCSA — and the Federal Highway Administration, which also remains operational during the shutdown — are funded via the Highway Trust Fund from multi-year spending bills, like the current MAP-21 law, and therefore do not rely on the annual appropriations from Congress.
According to the U.S. Department of Transportation's 2014 Plan for Appropriation Lapse, both FMCSA and FHWA "have sufficient balances of liquidating cash to operate for a limited period during a lapse of annual appropriations," and none of the FMCSA's 1,102 employees or the FHWA's 2,914 employees will be furloughed, the document says.
"All operations continue as normal during a lapse in annual appropriations," the plan says.
However, 18,481 of the DOT's 55,468 workers will be furloughed, DOT says.
The shutdown is the first since 1996. The main hang up for legislators is the Affordable Care Act (also called "Obamacare"), and the House has passed several bills that either strip the law of funding or delay key provisions of the bill, including the individual health insurance mandate.
The Senate, whose bill includes no changes to the healthcare law, has rejected the House's attempts to thwart Obamacare. President Barack Obama has also said he would veto any bills that delay or defund the law.