For the past few years, operating systems have become a hot topic among fleets that use enterprise-grade mobile devices. Companies that manufacture these devices, like Intermec and Motorola, have traditionally used Windows Mobile and Windows Embedded operating systems. Microsoft has announced plans to phase out support for these systems, however, leaving fleets to consider an exit strategy, or better yet, a migration strategy to next-generation platforms.
With the erosion of support, these platforms are no longer able to take advantage of the latest advancements in mobile devices like dual-core processors and RAM that exceeds 512 MB, says Joe DeWenter, principle product manager at Intermec. Buying new hardware to run legacy Windows applications is not a sound strategy.
By comparison, the Android OS takes advantage of new hardware features, though the early versions were not considered a viable alternative for enterprise use. Android lacked features for security and control that businesses needed to manage their mobile devices. That all changed with the release of Android 4.0, code named "Ice Cream Sandwich" and continued on with later releases to the most recent version of Android, 4.3 or "Jelly Bean," he says.
Microsoft has not gone away, however. Its latest mobile platform, Windows Embedded Handheld 8, is a complete rewrite of its earlier mobile OS and will be supported going forward. But porting legacy Windows Mobile applications to the new platform is not a simple feat, DeWenter says.
As Windows Mobile devices come to the end of their lifecycle, which may be anywhere between five and seven years from the time of deployment, fleets will have a critical decision to make. Should they invest in new hardware but continue to run legacy Windows applications? Should they rewrite their applications for the Web using an HTML-5 environment? Or should they ditch their legacy applications altogether and join the Android bandwagon?
Intermec's latest addition to its CN product line, the CN51, simplifies this decision with a hardware design capable of running Windows 6.5 and Android 4.1. It also has an HTML 5 browser. The CN51 therefore makes it possible for users to switch operating systems from Windows to Android when the time is right.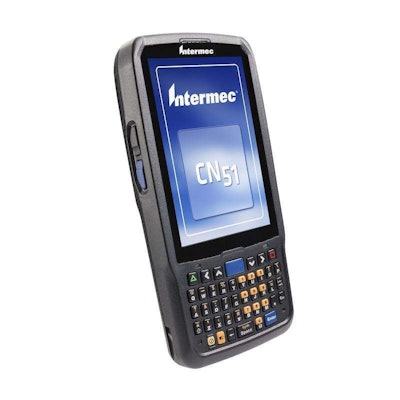 Intermec , now part of Honeywell Scanning & Mobility, says the CN51 is primed for use in direct store delivery, transportation and logistics and field service operations. It has a large 4-inch, multi-touch, outdoor-readable screen that provides ample room for application viewing with less scrolling as well as more space for capturing signatures. It's also equipped with state-of-the-art smart battery technology that lasts through a full 12-hour shift and beyond without interruption to replace or recharge.
The CN51 is designed to be a migration option from the current CN50, which uses a Windows Mobile or Embedded OS, while adding improved processor and area imager performance. For added flexibility, the CN51 is equipped with a voice-capable Flexible Network Radio, allowing the same device to operate on either a CDMA or UMTS wireless network in North America, with the ability to switch networks on-the-fly.
The new CN51 is available with a 5-megapixel color camera and Intermec's EA30 or EA31 imagers for the optimal reading of 1D and 2D barcodes in various conditions, including low light scanning environments. Its Mobile Document Imaging (MDI) and Remote Deposit Capture (RDC) features provide a fast and reliable way to convert full-size paper documents or check payments into electronic files while on the road, transmitting directly from the point of capture to the back-office workflow.
"While rugged devices are designed to be more function or application-specific than smartphones, there is growing consensus that these devices deliver a similar immersive experience and have similar capabilities as function-rich smartphones," said David Krebs, vice president of mobile & wireless, VDC. "As Android matures in the enterprise it represents an increasingly viable option for rugged vendors such as Intermec to bridge this functionality gap and deliver the capabilities their partners and customers are looking for."
As part of the Intermec PartnerNet ISV Program, ALK Technologies has tested its CoPilot Professional GPS software extensively on the CN51, said Michael Kornhauser, senior vice president, enterprise solutions, ALK Technologies, Inc. "During these trials, we've been impressed with its overall performance and believe it to be an important addition to both our Windows Embedded Handheld and Android Enterprise propositions."
The list price for the CN51 is $2,795