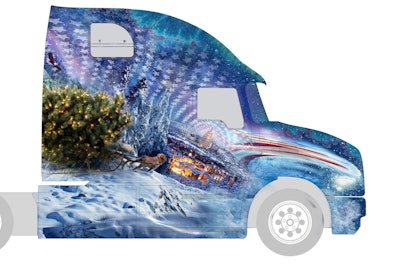 Mack Trucks today revealed the 2013 Capitol Christmas Tree truck decal design, which will be proudly displayed on the two custom Mack Pinnacle models charged with transporting the 2013 Capitol Christmas Tree cross-country from the state of Washington to Washington, D.C.
The design features Mack the Bulldog resolutely pulling a lit Christmas tree on a sled toward the U.S. Capitol. In the background is the U.S. flag. The official seal of the 2013 Capitol Christmas Tree project adorns the hood of the Pinnacle models. Brad Walker of Kettle Falls, Wash., who lives just a few miles from the Colville National Forest, designed and illustrated the image.
"We look forward to the Capitol Christmas Tree tour because it is a unique expression of national pride and holiday spirit," said
John Walsh, Mack vice president of marketing. "As an American brand, it is Mack's privilege to offer two Mack Pinnacle models for this holiday tradition."
The 2013 Capitol Christmas Tree tour officially begins Nov. 5 after a cutting ceremony on Nov. 1 near Newport, Wash. in the Colville National Forest. The tour will travel across Washington through Idaho, Utah, Arizona, New Mexico, Texas, Arkansas, Tennessee, Virginia, Maryland and Pennsylvania before being delivered to the west lawn of the Capitol on Nov. 25. Throughout the 11-state tour, the tree will make stops in more than 25 cities for community events that increase awareness about the importance of conserving America's forests.
In addition to Mack's support of the Capitol Christmas Tree tour, the trucking industry is playing a significant role in this year's project. The Truckload Carriers Association (TCA) is hosting community events in Boise, Idaho, St. George, Utah and Knoxville, Tenn. TCA will also host Capitol Christmas Tree events at a Dallas Mavericks game in Dallas, Texas on Nov. 18 and a Nashville, Tenn. concert featuring performer Lindsay Lawler on Nov. 21.