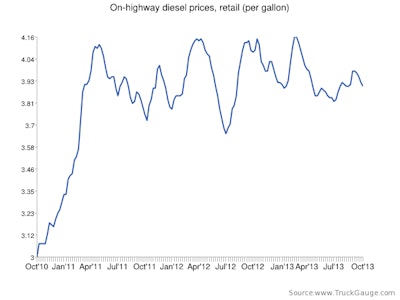 The national average price of diesel fell once again in the week ended Oct. 7, this time down another 2.2 cents to a national average price of $3.897, according to the Department of Energy's Energy Information Administration. The national average price has now fallen four consecutive weeks and is down 8.4 cents in that time period.
Diesel has also hit its lowest national average since the week ended Aug. 12. The four-week, 8.4-cent drop is the largest since a 10-week drop in March-May of this year in which diesel dropped 31.4 cents.
The national average price is 19.7 cents lower than the same week in 2012.
Additionally, prices dropped in all regions in the U.S., led by a 3-cent drop int he Central Atlantic region.
California still has the nation's most expensive diesel, $4.15 a gallon, while the Gulf Coast has the country's cheapest, $3.805.
Pro Miles' Fuel Surcharge Index, which measures prices paid at the pump, shows a week-to-week drop in the national average of 1.6 cents to $3.895.