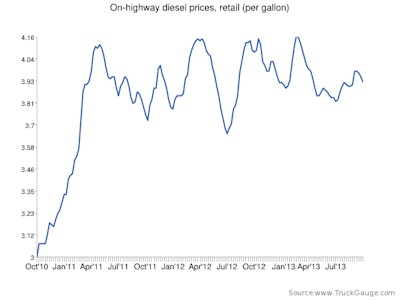 The national average for a gallon of on-highway diesel dropped 3 cents in the week ended Sept. 30 to $3.919 a gallon, according to the Department of Energy's Energy Information Administration. The week-to-week drops is the biggest since April 29, topping last week's 2.5-cent drop that had been the largest weekly decline since then.
The national average price is also down 16 cents from the same week in 2012, according to EIA. The price of diesel has now dropped three consecutive weeks, the longest steak of declines since a 7-week drop from the end of May to the beginning of July.
Prices also dropped in all regions in the U.S., led by a 3.7-cent drop in California, which still has the nation's most expensive diesel with a $4.172 per gallon average.
The smallest drop was in the Rocky Mountain region, which dropped 1.6 cents from the prior week. That region, however, is 27.8 cents cheaper than the same week in 2012 — the largest regional year-over-year gap.
The Gulf Coast region still has the nation's cheapest with a $3.831 per gallon average.