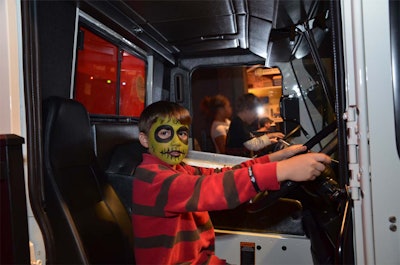 A Mack Trucks interactive display at the Da Vinci Science Center in Allentown, Pa. is now open, showcasing Mack's heritage of innovation and educating visitors about the wide variety of careers offered at the company.
The "Built Like a Mack Truck" exhibit features a Mack TerraPro Low Entry refuse cab, as well as a touchscreen display that allows visitors to "build" their own truck and test drive it through realistic work challenges. During the drive, participants learn about the different elements affecting fuel efficiency, as well as the different types of fuel technologies offered by Mack.
"We are thrilled that Mack Trucks, one of America's most enduring, innovative and popular brands, has teamed with the Da Vinci Science Center to provide a powerful and engaging experience that cannot be found anywhere else in our nation," said Lin Erickson, the Center's executive director and CEO. "We take tremendous pride in our ability to bring these unique and exceptional opportunities to the people of eastern Pennsylvania and western New Jersey."
The Mack display is the first of several new permanent exhibits the Da Vinci Science Center will introduce during the Year of Innovation from September 2013 to September 2014. The project highlights eastern Pennsylvania's innovators of today, seeks to inspire its innovators of tomorrow and promotes the skills that drive scientific and technical careers, including creativity, collaboration, process skills and problem-solving abilities.
The Mack TerraPro Low-Entry refuse vehicle is considered the most versatile truck Mack ever built for the refuse industry. Utilizing research and extensive customer feedback, the TerraPro Low Entry model was designed to meet the requirements of the job as well as the needs of the driver.
"Mack is pleased to be permanently represented in the Da Vinci Science Center in a display that not only inspires the next generation and educates them about the different careers at Mack, but also highlights our long-standing commitment to designing trucks that meet the specific requirements of our customers," said John Walsh, Mack vice president of marketing. "Through this unique experience, we look forward to teaching residents and visitors to the Lehigh Valley more about how Mack today continues to deliver the best trucks on the planet."