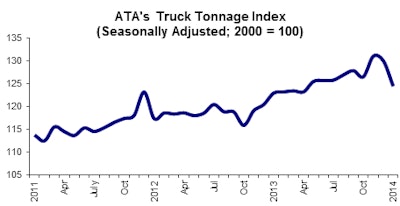 The amount of truck tonnage carried in January fell 4.3 percent from December, according to the American Trucking Associations, due to negative impacts of the several nationwide impacting winter weather events, ATA says.
January marks the second month in a row tonnage fell, as recorded by ATA's For-Hire Truck Tonnage Index. However, ATA's index hit an all-time high in November before edging down slightly in December.
January's reading was 124.4, compared to December's reading of 130. November's all-time high reading was 131.0.
From the same month in 2013, tonnage was up 1.2 percent, ATA says.
For all of 2013, tonnage was up 6.3 percent from 2012, following 2012's 2.3 percent increase from 2011.
ATA's Chief Economist, Bob Costello, says when an event like weather causes the trucking industry to get behind, it's hard for it to make up lost ground. The thing about truck freight is that it's difficult to catch up. Drivers are governed by hours-of-service regulations and trucks are limited to trailer lengths and total weights, thus it is nearly impossible to recoup the days lost due to bad storms."
Costello said despite January being the largest month to month drop in two years, it's hard to really gauge what happened with freight in the month.
"January wasn't just one storm, it was several across a large part of the country. Therefore, I wouldn't panic from the largest monthly drop in two years," he said. "I've heard from many fleets that freight was good, in-between storms. The fundamentals for truck freight still look good."