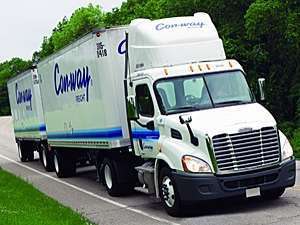 Lytx, Inc. (formerly DriveCam Inc.), a global provider of driver safety and compliance systems, announced that Con-way Freight has rolled out Lytx's DriveCam driver safety management program fleet-wide to more than 8,500 vehicles in support of the company's focus on safety.
Con-way Freight, a leading less-than-truckload (LTL) carrier, signed a multi-year agreement with Lytx to deploy the DriveCam program across its fleet. DriveCam powered by Lytx combines video and predictive analytics with real-time driver feedback and coaching to support improved driver performance and reduced safety incidents.
"Lytx and Con-way Freight have a common vision – to improve safety and save lives," said Brandon Nixon, CEO of Lytx. "We believe one of the most effective ways to do this is to help drivers improve, and we're proud to provide these tools to a world-class safety organization like Con-way Freight."
Using its patented Lytx Engine, the DriveCam program captures, prioritizes and tracks the results of driving behaviors to identify improvement opportunities for increased safety and efficiency. In-vehicle video captures driving behavior that is reviewed and scored within hours by certified professionals before being passed on to fleet safety personnel to coach driver improvement.
The DriveCam Program is managed through DriveCam Online. With 24/7 secure access, DriveCam Online provides information to monitor fleet performance, prioritize events for coaching, and tools to improve driver behavior. The portal features dashboards, alerts and configurable reports.