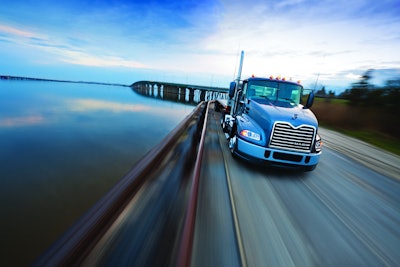 Mack Trucks will present two Mack Granite Medium Heavy Duty (MHD) 6×4 models in its booth at the NTEA Work Truck Show in Indianapolis. The MHD model offers a lower-cost, lighter-weight option, without compromising Mack's legendary durability and reliability.
Visitors to Mack booth No. 3527 at the Indianapolis Convention Center will find out for themselves about the MHD models on display, one a rollback, and the other ideal for lightweight dump applications.
"The MHD model offers a great option for customers needing the muscle of the Mack Granite, but in a lighter spec," said Stu Russoli, Mack construction product marketing manager.
Mack Granite MHD Axle Forward
Engine: Cummins ISL9, 345 hp and 1,150 lb.-ft. of torque
Transmission: Allison 3000 RDS six-speed
Mack Granite MHD Axle Back
Engine: Cummins ISL9, 345 hp and 1,150 lb.-ft. of torque
Transmission: Allison 3000 RDS six-speed