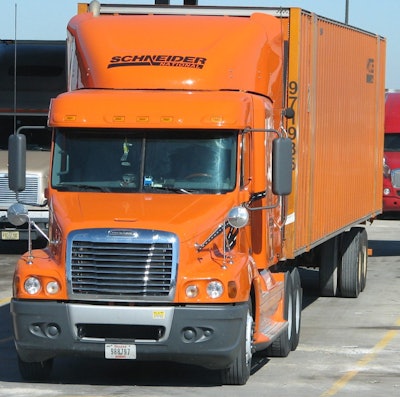 FleetRisk Advisors, a strategic business unit of Omnitracs, LLC, announced that multi-national trucking company Schneider will deploy FleetRisk Advisors' Driver Safety and Driver Retention models across its entire fleet.
Fleets that use these models are seeing significant reductions in accidents and turnover among the drivers that FleetRisk identifies as the top 10 percent of drivers in the fleet who have the greatest likelihood to be in an accident as well as the top 10 percent who will leave the company in the next 28 days. The models also recommend a course of action.
Fleets using the Driver Safety model have been able to lower the accident rate of drivers they remediate to 2.39 per million miles compared to 6.78 for non-remediated drivers, says Dean Croke, project manager for FleetRisk Advisors. For the retention model, remediated drivers have a 15 percent turnover rate compared to 80 percent turnover for non-remediated drivers.
During a three-month pilot using FleetRisk's model, Schneider said it achieved a significant reduction in crash rates per million miles and driver turnover in the remediated group of drivers. Following these results, Schneider decided to expand adoption across all lines of business in 22 states and 42 cities, consisting of more than 13,500 drivers.
"I have always believed that crashes don't happen by accident and that prevention is key to safety," said Don Osterberg, senior vice president of safety and security at Schneider. "We have long recognized the power of data, but were impressed by the initial results we saw with FleetRisk's models. This will be an important initiative as we continue to foster a strong safety culture."
Rob Reich, vice president of driver recruiting at Schneider added, "FleetRisk Advisors has been instrumental in helping us lower our turnover by identifying drivers we need to talk to. In addition to predictive analysis, FleetRisk's remediation plans ensure our fleet managers connect with drivers, facilitating closer relationships to correct issues before they become problems. The result is increased driver satisfaction and reduced churn."
Schneider provides truckload, intermodal and logistics services through its company divisions: Regional, Long-Haul, Expedited, Dedicated, Bulk, Intermodal, Brokerage, Cross-Dock Logistics, Supply Chain Management and Port Logistics.
By analyzing a fleet's historical data, FleetRisk's Driver Safety and Retention models identify patterns or changes in driver behavior that correlate with preventable crashes and voluntary terminations in the near future. This enables fleets to better identify drivers more likely to be involved in a crash or leave the company and follow the recommended coaching plans to mitigate their risks.
"We have only just begun our journey to realize the widespread benefits predictive analytics and remediation solutions can bring to fleets," said Vikas Jain, vice president and general manager at FleetRisk Advisors. "Schneider's adoption of our predictive analytics technology is further validation that our models are critical to fleet operations—improving safety, driver retention and the bottom line."