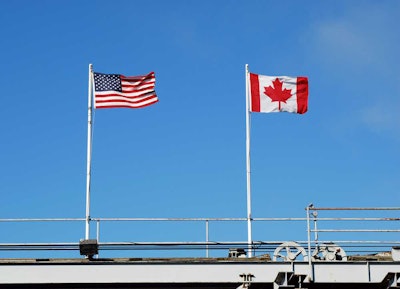 The United States and Canada are evaluating the effectiveness of a truck cargo pre-inspection program as the pilot program enters its second phase at the Peace Bridge.
The two nations began measuring the program's effectiveness in reducing wait time and congestion Feb. 24. U.S. Custom and Border Protection will continue radiation screening and basic primary processing of U.S.-bound truck cargo in Fort Erie, Ontario for at least six months. Secondary inspections, when required, will continue being done on the Buffalo, N.Y. side.
Initiating paperwork and primary inspection before a truck enters the United States is expected to open up much needed space at the U.S. Customs plaza in Buffalo.
The program's initial phase began last June at the Pacific Highway crossing adjacent to Surrey, British Columbia. This first phase tested the feasibility of placing CBP officers on Canadian soil to pre-inspect selected southbound trucks.
Click here to read more on the program from CCJ coverage in July 2013.