A hybrid approach has emerged the past few years that combines the benefits of consumer devices with the durability and security of corporate devices. This approach is called "corporate owned, personally enabled" (COPE).
Zonar 2020 runs on an Android-based platform that allows for third-party applications and user customizations. Text-to-speech capability reads messages to drivers while on the road and audible turn-by-turn directions from the device's navigation system. The 2020 has the ability to browse the web while the vehicle is not moving through a Wi-Fi connection.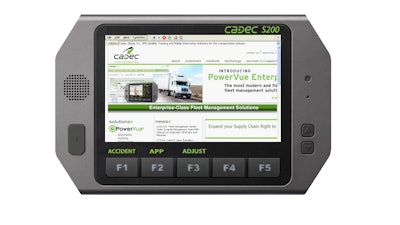 Cadec's PowerVue mobile system is primarily used by private fleets with shorter length of hauls making Web browsing not as critical for drivers. Cadec is researching options to add functionality as the market demands. PowerVue connects with several types of portable devices and has a standard application programming interface (API) to integrate additional third-party business applications.
"In the commercial space many new issues come into play like security, compensation, personal versus consumer devices, support and reliability of dealing with many devices," says Eric Witty, vice president of product management for Cadec, which provides the PowerVue mobile fleet management system. "Fleets and vendors seem to be working through these issues to find the right solutions."
1. Bring your own device to work