Much of the new innovation for mobile connectivity can be found in new vehicle designs. Auto manufacturers are building connected vehicles to make driving a better experience. The concept of a connected vehicle is being applied on three fronts: connectivity to personal devices, to other vehicles, and to infrastructure.
Mobile fleet management systems as well as heavy-duty truck manufacturers are working towards the same goal to create a central, in-vehicle communications hub that expands connectivity to peripheral devices, vehicles and infrastructure.
Added together, technology in the cab is providing more intelligence to the driver based on location to make content more relevant.
"The concept of keeping moving assets connected to the maintenance department is not new," says Christian Schenk, president and founder of CLS, a technology consulting company that provides insight and guidance to companies in the trucking industry. "What's new is the mainstream impact of connected vehicles. It's about what the connect vehicle can do for the driver, not just for the company."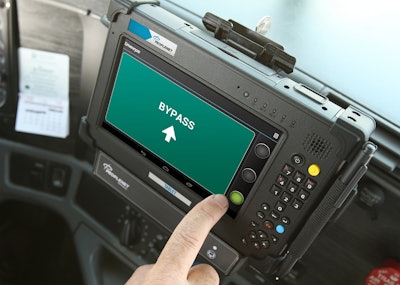 Drivewyze PreClear, for example, is a weigh station bypass application available on several onboard devices as well as consumer devices. The app features a complimentary weigh station cost-analysis tool, nationwide Weigh Station Heads Up notifications, and a bypass service subscription option.
Drivewyze says that PreClear is the only cloud-based service to alert drivers two miles before approaching a site. It affords fleets the opportunity to earn up to a 98 percent weigh station bypass rate, depending on their safety records.
Last year, PeopleNet announced that it will be rolling out a new Precision Mobility Platform. The rollout will continue throughout the year, starting in the back office where predictive analytics from the company's Vusion division will be more integrated with the daily flow of information to managers.
PeopleNet's in-cab mobile platform is also undergoing major changes. In the end, the new platform will be "a much more complete mobile solution than what we have today," says Brian McLaughlin, president. "You'll see apps and even devices that go well beyond a traditional ELD and telematics device."
PeopleNet plans to add 4G wireless communications for more bandwidth and video streaming for mobile devices. The company also plans to create a roaming hotspot to extend connectivity to other sensors and devices in the cab and around the vehicle.
"We want to be a center, a hub, for communications and connectivity to the vehicle," he says.
1. Bring your own device to work
3. Corporate owned, personally enabled