With thousands of trucking-related apps available for convenient download through the Google Play and Apple App Store, deploying and training drivers to use new software can be a fairly quick and easy process.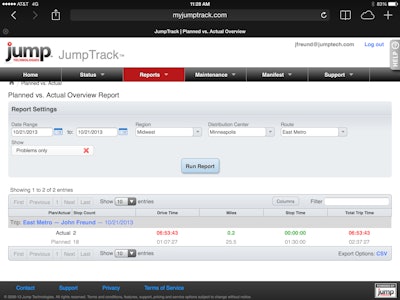 Coastal Courier, Inc. (CCI) is a dedicated logistics provider that operates 400 vehicles in the southeast. The company requires all of its driver contractors to have smartphones. Recently, the company implemented an app called JumpTrack to have a paperless proof-of-delivery process.
Learning the idiosyncrasies of the new technology was somewhat challenging for an office staff that had grown used to paperwork, says Bruce Scattergood, director of the Orlando, Fla.-based company. Drivers, on the other hand, are usually proficient at using the app within one week.
By using JumpTrack, one of the most time consuming tasks has vanished: searching for proof-of-delivery documents when a customer had a discrepancy with an invoice. "Now there is very little time involved. You type in an invoice and up comes the order with a signature next to the quantities," he says.
All of the trends in mobile technology center on user experience. As technology continues to become more advanced, using platforms that drivers already perceive as easy and convenient can help lower costs and accelerate return on investment.
1. Bring your own device to work
3. Corporate owned, personally enabled