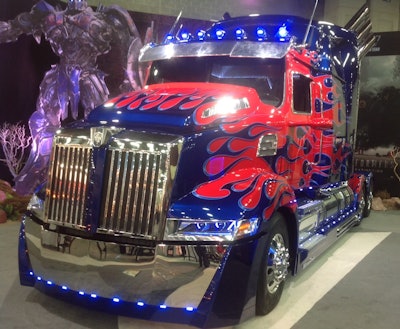 Daimler Trucks continues to reap the rewards of a highly successful global strategy. This was the essence of a press conference with Daimler Truck's top management team at the Mid-America Truck Show in Louisville, KY, last week.
The briefing was presented by Dr. Wolfgang Bernhard, Board of Management, Daimler AG, Daimler Trucks and Buses, Martin Daum, president and Chief Executive Officer, Daimler Trucks, North America, (DTNA) who both indicated that the company is leveraging its global reach and economies of scale to develop and deploy intelligent vehicle platforms for common markets.
According to Dr. Bernhard, the outlook for DTNA in North America continues to be outstanding, citing "solid" 4th quarter growth in 2013 that has carried over into the 1st quarter of 2014. All told, Bernhard noted, Daimler built a total of 587,000 trucks last year, including models produced for the company's new Auman division in China.
Building on this trend, Bernhard predicted the company will see 10 percent growth in the NAFTA region this year compared to 2013, citing the company's current marketshare leadership of 41 percent of Class 8 sales in North America today.
Looking ahead, Bernhard said DTNA would, in the short term, be working hard on active safety systems for commercial vehicles as well as vehicle connectivity, which he called "the next frontier in the evolution of heavy truck development."
Bernhard sounded a note of caution when discussing upcoming emissions regulations, saying that any new standards need to address complete vehicle systems, adding that it was not fair – or effective – to simply target engine and powertrain solutions. Particularly useful, he said, would be the implementation of broad-based global emissions standards instead of piecemeal solutions targeting regions or specific countries.
Martin Daum began his presentation with a more in-depth look at current DTNA marketshare figures. The company, he said, is now enjoying solid growth in all markets, including a 40 percent share of all NAFTA trucks in Classes 6 – 8. If current sales trends hold, Daum expressed confidence the company would be close to 50 percent marketshare in Classes 6 and 7 in North America by year's end.
Looking at specific DTNA products, Daum noted proudly that the company already ahs 40,000 orders in hand for its Class 8 Cascadia Evolution aerodynamic tractor as well as 17,000 orders for its Detroit DD 12 diesel engine.
As DTNA production ramps up to approximately 100 trucks being built a day, Daum predicted that 2014 will see a Class 8 market of around 261,500 trucks built this year.
In a final piece of news, Daum noted that to keep up with demand, the company was moving some Western Star 4700 production to its Cleveland, NC, plant and teased the introduction of an aerodynamic Western Star tractor, slated for introduction later this year. Hints of the new truck could be seen in the companys' Transformers' Optimus Prime Western Star truck (pictured) on display in its MATS booth. Although Daum noted dryly, "To be clear, we have no plans to build a truck next year that can turn into a robot and save the world."