Based on its recent analysis of the medium and heavy commercial vehicle telematics market, Frost & Sullivan recognized PeopleNet, a Trimble company and provider of fleet mobility technology, with the 2014 North America Frost & Sullivan Award for Company of the Year.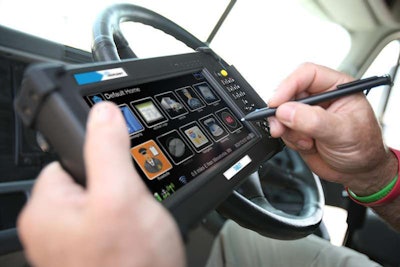 Acknowledging the opportunities created by regulations mandating the use of telematics, PeopleNet rolled out new market expansion measures, such as launching the Precision Mobility Platform and expanding its addressable market in the energy services sector. It also added off-the-shelf ruggedized devices to its list of handhelds and partnered with original equipment manufacturers (OEMs).
PeopleNet's focus in 2013 was to drive analytics and product feature integrations through sister companies such as Vusion, TMW systems, ALK Technologies, and GEOtrac. It signed partnerships with Volvo and Navistar, which use PeopleNet data and, in some cases, Vusion analytics tools to predict a truck's life cycle, breakdowns, and remote diagnostics, helping PeopleNet grow organically.
PeopleNet also increased its focus on smaller fleets by renewing agreements with resellers. With over 2,000 customers and an installed base of nearly 250,000 units, the company has had consistent growth over the past five years.
"To avoid overwhelming customers with options, PeopleNet launched its custom reporting capability in 2013, allowing fleet managers to create their own drop-down reporting tools by slicing and dicing the data warehouse and configuring their dashboards," said Frost & Sullivan Industry Analyst Nandini Tare. "In addition, PeopleNet developed segment-specific workflow tools for drivers, which take them step-by-step through their daily process."
PeopleNet addressed the hours of service change implemented in 2013 by updating its electronic driver log module. This module allows drivers to fax or email their electronic log books to local law enforcement at the touch of a button. PeopleNet also delivers collision avoidance and lane departure information data to on-board event reporting tools, while its energy suite has expanded to include leased-roads mapping, an energy dispatch portal, in-cab scorecards, and driver coaching tools.
PeopleNet continued to extend device compatibility to fixed-mount displays, tablets, and handheld computers. It added five new devices in 2013 across Intermec and Motorola, which strengthened its presence in a company-owned, personally enabled (COPE) model and gave it greater traction in markets such as food services, transportation and logistics, where portability is paramount. This expansion alone added about 15,000 units in 2013.
Last but not least, the addition of Vusion's capabilities and methodologies enhanced its diagnostic reporting, predictive analytics, prognostic reporting capabilities, driver management reporting tools, and enabled custom analytics.
"The data and analytics tool will be used by OEMs to help predict breakdowns and drive prognostics into the life cycle of the truck," noted Tare. "Navistar integrated PeopleNet data and fault codes into its remote diagnostics portal and is working with PeopleNet's large fleets to drive its value."
Frost&Sullivan also noted that PeopleNet's integration with products, which improves driver and vehicle efficiency through business intelligence, has ensured that its customer retention is well above the industry standards. PeopleNet also offers a low-cost evaluation process whereby fleets can test its products for 30 to 60 days. Its professional-services group offers process consulting for onsite process mapping and recommendations that optimize customer return on investment.
PeopleNet offers 24/7 customer support and dedicated account managers for large fleets, and customer managers for fleets with more than 25 trucks. It also provides fleets access to an extensive knowledge base and self-service portal through which they can access frequently asked questions, Web chat, shop online, and process returns.
Overall, PeopleNet's growth, due to its partnerships, ability to provide analytics, industry expertise and the introduction of industry-specific suites factored into it receiving the 2014 North America Frost & Sullivan Company of the Year Award.
Each year, Frost & Sullivan presents this award to the company that has demonstrated excellence in devising a strong growth strategy and robustly implementing it. The recipient has shown strength in terms of innovation in products and technologies, leadership in customer value as well as speed in response to market needs. In short, the award looks at the emerging market players in the industry and recognizes their best practices that are positioned for future growth excellence.
Frost & Sullivan Best Practices Awards recognize companies in a variety of regional and global markets for demonstrating achievement and superior performance in areas such as leadership, technological innovation, customer service, and strategic product development. Industry analysts compare market participants and measure performance through in-depth interviews, analysis, and extensive secondary research in order to identify best practices in the industry.