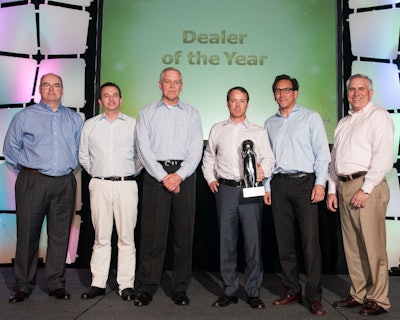 CT Power of Commerce City, Colo., was named Carrier Transicold's 2013 North America Dealer of the Year, and Frio Servicio de Monterrey S.A. de C.V. of Monterrey, Nuevo León, Mexico, was named 2013 Latin America Dealer of the Year at the recent annual meeting of Carrier Transicold's Americas Truck/Trailer/Rail dealers. Carrier Transicold helps improve global transport and shipping of temperature-controlled cargoes with a complete line of equipment for refrigerated trucks, trailers and containers, and is a part of UTC Building & Industrial Systems, a unit of United Technologies Corp. 
Also at the meeting, Central Transport Refrigeration of Winnipeg, Manitoba, received recognition for outstanding customer service as the recipient of Carrier Transicold's "Extra Mile" Award. A total of 70 awards were presented to 45 dealerships and three individuals for 2013 performance, business development and personal achievement.
"Our Dealer of the Year recipients and Extra Mile winner epitomize the significant progress our dealer network has made in enhancing training levels, increasing parts availability and improving processes that result in superior customer support," said Tom Spencer, dealer network manager, Carrier Transicold.
"CT Power excelled in all of the stringent quantitative and qualitative metrics taken into consideration for Dealer of the Year," Spencer said. "They have achieved exceptionally high levels of customer loyalty, while demonstrating commitment, professionalism and customer focus."
Based near Denver, CT Power's achievement is its second Dealer of the Year Award since becoming a Carrier Transicold dealership in 1986. For 2013, CT Power also achieved a NextLevel2 Platinum Award by achieving goals for customer satisfaction, business investment, sales performance, service proficiency and growth.
The Latin America Dealer of the Year Award is Frio Servicio's third since its founding in 1988. Known locally as "Friser," the dealership also achieved a NextLevel2 Perfect Score Award, and Double Digit Growth awards.
"Exceptional teamwork and ongoing investment in technology, training and products has helped propel Friser to its present leadership position in the northeastern Mexico region," said Jesús Estrada, Carrier Transicold managing director, Latin America. "Friser has built a solid reputation for its ability to respond to customer needs in a highly demanding market."
In receiving Carrier Transicold's "Extra Mile" Award, Central Transport Refrigeration was recognized for a track record of superior customer service. The Canadian dealership was lauded for a proactive initiative that went beyond the normal call of business by helping a trailer original equipment manufacturer (OEM) expedite delivery of a significant refrigerated trailer order, including coordination of unit inspections among multiple dealers and providing a master technician and manager to help train the OEM's installers.
Also recognized by Carrier Transicold were three individuals: Mark Miller of Coast Truck Centers, Troutdale, Ore., Dealer Sales Manager of the Year; Doug Shaver of Carrier Transicold South, Lake City, Ga., Dealer Parts Manager of the Year; and Dave Lake of Carrier Transicold of Detroit, Lincoln Park, Mich., Dealer Service Manager of the Year.
Hundreds of Carrier Transicold dealer representatives from the United States, Canada, Mexico, Central America and Brazil gathered for the event, which also included presentations about Carrier Transicold's innovative new product platforms that respond to changing environmental regulations.