Last year, over 1 billion new smartphones were sold worldwide. The Android platform accounted for nearly 85 percent of the mix. Motorola Solutions has taken the Android operating system and blended it into a consumer-like form factor with enterprise attributes.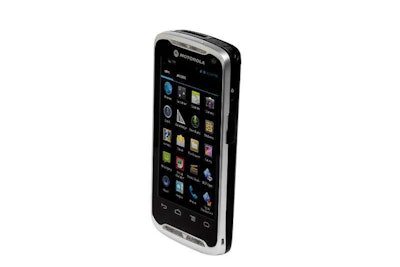 Its TC55 touch computer is now available for the Verizon network, along with new options for Google Mobile Services (GMS).
Enterprise smartphone customers have unique requirements, the company says. Some businesses will value the additional benefits of GMS while others will need to minimize user access and network interaction to just enterprise applications. Motorola Solutions says it is the first and only manufacturer to offer an Android smartphone in both variants – giving customers the choice.
Designed for field service, field sales, merchandising, logistics and postal applications, the TC55 features a thin, touchscreen design with capabilities and durability expected from an enterprise mobile device. The touchscreen works with gloves on or when it is wet, unlike consumer devices and the volume of the speaker is up to four times louder than typical smart phones, making hands-free voice conversations possible while around heavy-duty equipment.
The TC55 is available with three radio platforms (global HSPA+/GSM, Americas LTE/HSPA+, and Verizon LTE) to provide global coverage to meet the 4G communication needs of enterprises.
The Standard TC55 comes with Google Mobile Services (GMS), a suite of integrated applications such as Google Maps, Gmail, Google Play store, Google Search, Google Talk, and the Chrome browser standard on most smartphones.
The Professional TC55 does not include GMS to prevent data gathering of user location, keypad entries and search activities by Google while providing customers with control of application and OS upgrades. Enterprise-built applications are provided through the Motorola certification process and are made available through Motorola's AppGallery app store.
Other features of the TC55 include:
An advanced capacitive 4.3-inch high-resolution touch screen that is brighter both indoors and outdoors, supports multi-touch capability, consumes less energy and dynamically adjusts to the environment enabling input with a bare or gloved finger or a stylus – even if the screen is wet.
IP67 sealing and battery life built for a full day in the field. The TC55 comes with a rugged charging cable and is available with a rubber boot for increased durability. The batteries can be swapped out easily, the company says.
Extensions (Mx) by Motorola Solutions provides an added layer of security, manageability, data capture and wireless features on top of the standard Android OS and is included at no additional charge on both the Standard and Professional configurations.
The TC55 supports the option to run applications built with Motorola's RhoMobile Suite 4.0, which provides powerful development tools built from the ground up for enterprise mobility applications.
Service from the Start is included with the purchase of the TC55 in most regions and provides free software upgrades when available and normal wear and tear repair coverage with a dependable three-day turnaround time.