On Friday, Aug. 22, at the Great American Trucking Show, Rand McNally, introduced its latest generation IntelliRoute TND GPS devices for commercial truck drivers. The devices have new hardware, a faster processor, new graphical user interface options, and improved map appearance.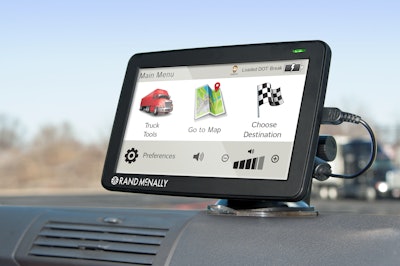 The 7" and 5" devices feature a thinner, sleek hardware design that is still rugged enough to withstand the in-cab environment. Inside, the devices have faster processing speeds, allowing for quicker route calculation, point of interest searches, route comparisons, and faster screen-to-screen transitions.
Graphically, the units offer users two new interface design options – called "Ice" (with a white background) and "Carbon" (with a steel gray background). Users may also use the familiar "Classic" design interface, from prior generations of IntelliRoute TNDs. The new proprietary, color-saturated icons in the design were created by Rand McNally to ensure features are easy to recognize with just a glance.
The onboard mapping has been upgraded to include improved text and road shields, and new coloration for certain reference points like shopping centers and parks. Additionally, the devices offer users the option of two new map color schemes for more driver personalization.
New navigation options allow the driver to further tailor routes to individual preferences:
Estimated Toll Road costs are included for better informed trip planning. A driver may choose to incorporate toll costs in the Compare Routes feature.
More Advanced Lane Guidance instruction, combined with Enhanced Junction Views, shows the driver the best lanes in which to drive when approaching a turn or heading toward a complicated intersection.
Avoid Areas option allows drivers to avoid areas permanently – such as residential locations – or temporarily to accommodate closures of bridges or other roads; blocked areas can be drawn on screen, or selected by road segment.
Multi-Stop Trip Planning provides detail for upcoming legs of the journey, color-coded for easy differentiation. There is also a "zoomable" summary map view of the full trip showing the various segments.
And, a Commercial Bus routing option is now available on the devices in addition to truck and car routing.
E-Logs now shipping with HD 100 device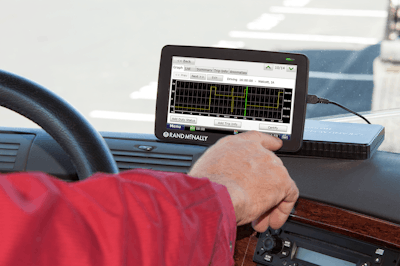 Rand McNally also announced that its HD 100 device is now shipping with Rand McNally's compliant E-Logs, which makes is possible to run the software on tablets, smart phones, and the IntelliRoute TND GPS devices.
Depending upon the service plan selected, the HD 100 can also turn those devices into fully functional mobile fleet management systems.
The HD 100 is a small black box about the size of a deck of cards. It plugs into a truck's on-board diagnostic port and records the truck's GPS position along with critical vehicle-specific information and driving behavior.
The device provides electronic Hours of Service (HOS) recording, vehicle inspection reporting, text- and dispatch-integrated messaging, plus driver performance monitoring capabilities. Features are dependent upon the service plan selected.
"With the new all-platform capabilities of the HD 100, drivers and fleets can leverage the technology they already have – be it a TND device or tablet or smart phone," said Stephen Fletcher, CEO of Rand McNally.
The HD 100 is available at Travel Centers of America (TA), other retailers and online stores, for $299 which includes six months of E-Log service. The HD 100 all-platform is on display at the Great American Trucking Show this week in booth #16112.