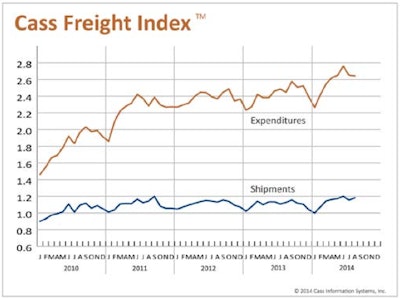 Graphics: CASS INFORMATION SYSTEMS
North American freight volumes bounced back in August from a normal July dip, but did not cause a similar increase in freight spending, according to the latest Cass Freight Index. Compared to July, spending was down slightly.
August shipment volume increased 2.3 percent, reversing some of the previous month's 3.9 percent slide. August shipments are 4.9 percent higher than a year ago and are up 13.9 percent in 2014.
Among the key indicators, as noted by Rosalyn Wilson, a supply chain expert and senior business analyst with Parsons, the Institute for Supply Management's August PMI rose 3.3 percent to 59, the highest level since March 2011's 59.1, indicating that domestic manufacturing is continuing to gain strength.
Also, American Trucking Association reported that July tonnage was up, and their seasonally adjusted Truck Tonnage Index was just 0.6 percent lower than the all-time high in November 2013.
At the same time, the Association of America Railroads reported that the average weekly U.S. rail volume, in terms of carloads plus intermodal containers and trailers, was higher in August 2014 than in any month since October2007.
The August freight expenditures index, however, dipped 0.3 percent as rates remain "stubbornly flat," Wilson notes.
While capacity was not as tight as expected – and even spot rates weakened a bit during the month – August expenditures are still 8 percent higher than the corresponding month a year ago and 10.8 percent higher than December 2013.
"A further increase in freight activity in September as holiday goods begin to flow into to the country will strain capacity," Wilson says. "So far, however, that has not been a good indicator of higher expenditures, except on the spot rate markets."
Looking ahead, Wilson points out that both imports and exports are trending upward, and new orders are growing in China and Europe. U.S. consumer sentiment continues to climb, signaling a developing belief that the economy will continue to strengthen. And consumer spending has inched up as the unemployment rate has fallen.
"Economic indicators still show hope that the fourth quarter of 2014 may not experience the dramatic drop-off that has come to characterize the economy's performance since the recession," Wilson concludes.