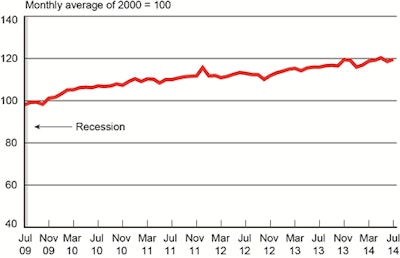 The amount of freight moved by the for-hire transportation industry in the U.S. in July rose nine-tenths of a percent from the month prior, as measured by the Department of Transportation's monthly Freight Transportation Services Index.
The Index reading for July was 119.6, just half a percent shy of the all-time high from May of this year and up 3.2 percent from the same month prior.
June's reading, however, was downwardly revised by half a percentage point, while May's was upwardly revised.
Every month this year has seen a month-to-month increase, save for January and June, and trucking freight has been the driving factor in the increases, the DOT has said.
Growth in manufacturing and construction contributed to the index's increase, the DOT says.
Year-to-date, freight shipments are up 0.4 percent.