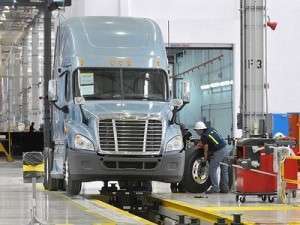 North American Class 8 truck net orders last month came in at 24,477 units according to data from FTR – the best September mark since 2005.
According to preliminary data orders were up 27 percent from a year ago, making September the twenty consecutive month to show year-over-year improvement. Class 8 orders for the latest six month period through September annualize to 310,000 units.
Don Ake, FTR Vice President of Commercial Vehicles, says September Class 8 orders were similar to August and may reflect some pull ahead of Q4 orders in response to OEM production constraints as fleets attempt to reserve build slots.
"If some of the September activity indeed is pull ahead, Q4 orders will be below expectations for the time period," he says. "However, Class 8 orders overall are solid across the board and in line with FTR forecasts."
Order activity has snapped back into traditional seasonal patterns, albeit at levels consistent with a very strong Class 8 market, and Ake says the industry enters the fourth quarter with positive momentum.
"Which means the first quarter build numbers should be robust," he says.
Over the past twelve months, NA Classes 5-8 net orders have totaled 540,000 units, according to ACT Research. That cumulative order volume represents the strongest 12-month period of NA Classes 5-8 order placement since the twelve months ending November 2005.
"Class 8 orders continued to be booked ahead of seasonal expectations," says Kenny Vieth, ACT's President and Senior Analyst. "Historically, September is the second weakest month of the year for Class 8 orders, so some moderation was expected."
September's preliminary 18,500 NA Classes 5-7 net orders were up 3 percent from August and 9 percent from a year ago, representing the best MD vehicle order volume since April.
"September is historically a strong month for school bus chassis orders, which remained elevated, so there is an expectation for stronger overall medium–duty orders during the month," Vieth says.