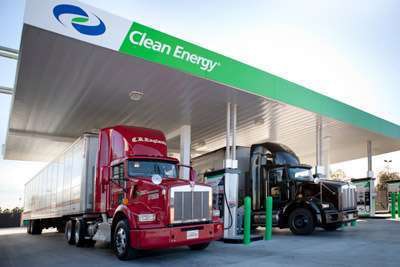 Clean Energy Fuels and Dillon Transport announced a multi-year fueling agreement in which Clean Energy will supply 2.5 million diesel gallon equivalents of compressed natural gas to the tank carrier annually. In addition, Clean Energy plans to open three new public-access CNG stations in Houston and Midland Texas and Atlanta by year-end to accommodate the increased fuel sales. The Midland station is located adjacent to a Pilot Flying J Travel Center and will feature 2 CNG lanes and 2 LNG lanes.  The Houston and Atlanta stations will each have 2 CNG lanes.
"Clean Energy is privileged to expand our 5 year relationship with Dillon to help enable this fleet's transition to natural gas," said James Harger, chief marketing officer of Clean Energy. "Dillon's early leadership in heavy-duty natural gas truck fueling helped pave the way for numerous other heavy-duty fleets to make the switch to natural gas fuel in Texas and beyond."
With this announcement, over 200 of Dillon's 500-truck fleet will fuel with natural gas throughout Clean Energy's public-access network in Texas and Georgia.  This network includes a Clean Energy natural gas station on Dillon's property in Dallas. Dillon regularly takes delivery of additional heavy-duty CNG trucks as it phases out its remaining diesel trucks.