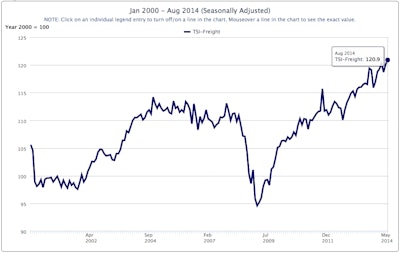 The amount of freight moved by the for-hire transportation industry in the U.S. rose again in August, reaching an all-time high as measured by the Department of Transportation's monthly Freight Transportation Services Index.
The Freight TSI climbed six-tenths of a percent to 120.9, up from July's revised 120.1 reading.
The increase in freight in August was driven by continued gains in trucking and water, and by pipelines, which rebounded from a July decline, according to Wednesday's report. Rail and air gave back some July gains.
August was the third month in which the Freight TSI exceeded the levels that had been attained prior to the weather-related downturn in the early part of the year, DOT notes.
Freight shipments in August were 27.8 percent higher than the recent low in April 2009 during the recession (94.6).
Year-to-date, freight shipments are up 1.5 percent on the TSI.