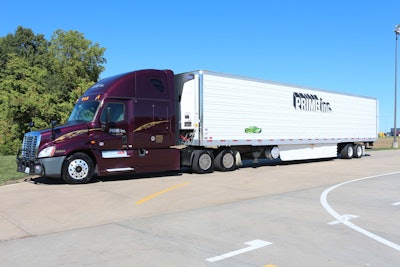 Prime Inc. (No. 16 in the CCJ Top 250) announced it is adding Bendix ADB22X air disc brakes and the Bendix TABS-6 Advanced trailer roll stability system to its highway safety efforts.
The fleet is equipping 2,500 new refrigerated trailers with the Bendix ADB22X and Bendix TABS-6 Advanced safety technologies. Delivery is taking place over the next nine months. The trailers are manufactured by Utility Trailer Manufacturing Company.
Prime Inc. is one of North America's largest refrigerated, flatbed and tanker trucking companies.
Prime specs other Bendix safety products as well, including the Bendix ESP Electronic Stability Program full-stability system and the Bendix Wingman Advanced collision mitigation tech on its Peterbilt, Kenworth and International Class 8 tractors. In addition, Prime provides AutoVue Lane Departure Warning (LDW) System from Bendix CVS on all its tractors, which number more than 5,000.
The patented Bendix ADB22X air disc brake is a lightweight design that reduces stopping distance and offers longer life and faster service times than drum brakes.
Bendix Spicer Foundation Brake LLC (BSFB), a joint venture between Bendix Commercial Vehicle Systems and Dana Commercial Vehicle Products manufactures the Bendix ADB22X at its wheel-end production facility in Bowling Green, Kentucky. BSFB has manufactured more than 750,000 Bendix ADB22X air disc brakes since it began production in 2005.
The Bendix TABS-6 Advanced trailer roll stability system combines antilock braking (ABS) with a set of trailer sensors, which monitor stability and can quickly and automatically trigger braking interventions when conditions that may lead to a rollover are detected.
Bendix VP Scott Burkhart emphasized that Bendix safety technologies are designed to supplement safe driving practices and are not intended to enable or encourage aggressive driving. Responsibility for the safe operation of the vehicle remains with the driver at all times.
"No commercial vehicle safety technology replaces the most important safety components of all: skilled, alert professional drivers exercising safe driving habits, as well as continuous, comprehensive driver training," Burkhart said.