Indicators of the economy's health and outlook for trucking continue to remain strong. Here's a roundup of trucking-related economic indicators from the most recent week:
Freight
DAT: DAT's monthly measure of freight movement, the DAT Freight Index, showed a 17 percent increase from the same month last year, despite the seasonally based 15 percent drop from the month prior: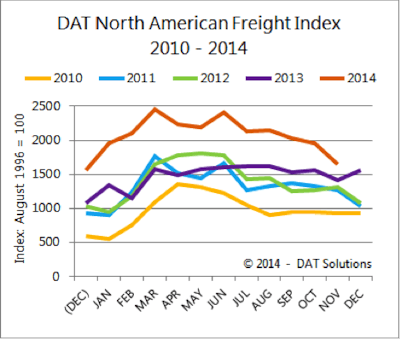 Van loads led the year-over-year increases with a 44 percent jump, followed by a 29 percent jump in reefer loads and a 13 percent increase in flatbed loads, DAT reports.
From the month prior, however, reefer was the only segment to see an uptick in freight volume, with an 8.6 percent increase. Van loads dropped 3.6 percent, while flatbed demand fell 34 percent.
Cass: Cass reported in its Cass Freight Index Report for November that the number of freight shipments fell 0.2 percent — the third drop since August. The month-to-month drops, however, "are not cause for alarm," Cass says in its report, pointing to big year-over-year upticks.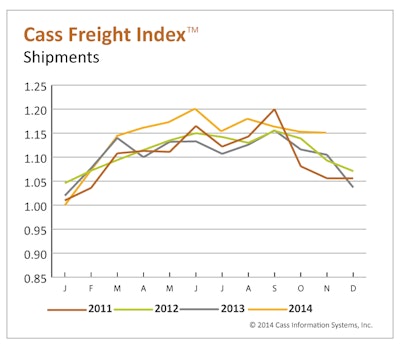 This November, shipments were 4.2 percent higher than the same month last year and is the "highest point on our shipments index since the Great Recession," Cass reports.
The year as a whole has also been the best since the '08-'09 recession ended, Cass notes, calling the year's indicators "good news for carriers."
DOT: The Department of Transportation's monthly freight report, the Freight Transportation Services Index, showed a 0.3 percent increase for October — pushing it to its fourth straight all-time high.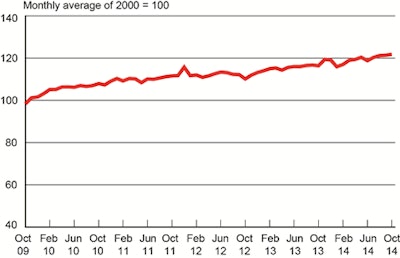 Trucking drove the October growth, the DOT notes.
Rates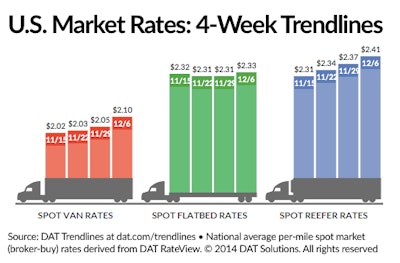 DAT's weekly Trendlines report shows that loads and rates both saw an uptick in the week following Thanksgiving. As noted in the graph above, van rates jumped 5 cents, flatbed loads rose 2 cents and reefer rates rose 4 cents.
Outlook
FTR reported in its monthly Trucking Conditions Index that conditions for carriers remained "in very positive territory." The index reading of 8.53 reflects growth in freight, rising rates and falling fuel costs. FTR says those conditions are expected to continue.
Capacity utilization will remain tight, though it has fallen from the 99 percent reached earlier this year.