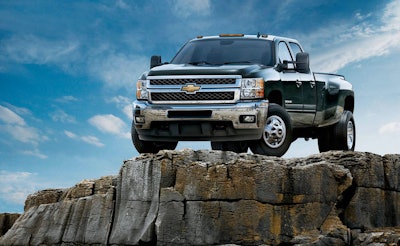 General Motors Co. dealers in the United States delivered 274,483 vehicles last month for the company's best December sales in seven years. Total sales were up 19 percent compared to a year ago. Retail sales were up 23 percent and fleet deliveries were up 6 percent.
"Chevrolet was strong in every segment of the market, from pickups and SUVs to cars and crossovers. Buick and GMC also had strong sales across the board, and our growth far outpaced the industry average," said Kurt McNeil, U.S. vice president of Sales Operations. "Everything you need to have a great month was in place: Consumers felt good about the direction of the economy, interest rates and fuel prices were low, and our dealers did a great job introducing customers to our incredible range of new and redesigned vehicles."
GM's unique three-pickup strategy – with new models spanning the light-duty, heavy-duty and mid-size segments – drove combined deliveries to almost 87,000 units in December, a 43-percent increase compared with a year ago.
Five GM vehicles – the Chevrolet Corvette and Spark, the Buick Enclave and Encore and the GMC Sierra – had their highest December sales ever.
Seven GM vehicles – the Chevrolet Cruze, Equinox, Sonic and Spark, the GMC Terrain, and the Buick Enclave and Encore – had their best-ever annual sales in 2014.
Sales to individual consumers drove GM's results, and were the highest in 75 months. Chevrolet, Buick and GMC retail deliveries were up 25 percent, 28 percent and 29 percent, respectively, compared with a 10 percent increase for the industry as a whole. Chevrolet had its best December retail sales since 2005 and Buick and GMC had their best December retail sales since 2004.
GM commercial sales, which are about 24 percent of fleet sales, were also strong. Deliveries were up 38 percent compared with a year ago, driven by a 65 percent increase in pickup sales. December marked the company's 14th consecutive month of higher year over year sales in the commercial segment.
Additional December Highlights (vs. 2013 except as noted)
Chevrolet:
In the pickup market, dealers delivered nearly 58,000 Silverados, for the truck's best December since 2005. In addition, the Colorado, which is Motor Trend's 2015 Truck of the Year, saw sales of more than 4,000 units, as availability improved throughout the month.
In the SUV market, all of Chevrolet's redesigned SUVs posted double-digit gains, with Tahoe up 30 percent and Suburban up 16 percent.
In the crossover market, the Traverse was up 11 percent and the Equinox was up 24 percent. In addition, dealers delivered 739 all-new Trax small crossovers, which started shipping during the month.
In the passenger car market, Spark deliveries were up 76 percent, Sonic was up 23 percent, Malibu was up 9 percent and Impala was up 23 percent.
In the sports car segment, Camaro was up 32 percent and Corvette was up 18 percent.
GMC:
Sierra deliveries were up 31 percent to more than 23,000 units.
Yukon deliveries were up 31 percent.
The GMC Canyon, named Autoweek magazine's "Best of the Best" Truck for 2015, had sales of more than 1,500 units.
Buick:
Every Buick car and crossover posted a sales increase, with the largest gains posted by the Enclave, up 53 percent, for its best month ever, and the LaCrosse, up 61 percent.
Cadillac:
Escalade deliveries increased 62 percent.
Sales of the CTS sedan increased 4 percent in December.
Average Transaction Prices (ATPs):
GM has now posted 27 consecutive months of year-over-year average transaction price (ATP) increases.
ATPs were a record $36,300, according to J.D. Power PIN estimates through December 21, up more than $1,000 per unit compared to November and up about $3,000 versus a year ago.
Incentives:
Month over month, GM reduced incentive spending as a percentage of ATPs more than the industry average, according to PIN estimates, and the company has had the lowest incentives of all domestic automakers on an ATP basis in 10 of the last 12 months.
Incentive spending as a percentage of ATPs was 10.4 percent in December, down 0.8 points month over month, while industry average spending was 9.8 percent of ATP, down 0.4 points.
Fleet and Commercial:
Sales to government customers were up 11 percent and sales to rental customers were down 13 percent.
On a volume and mix basis, GM had its most successful year in the fleet business since 2008, and was No. 1 in deliveries, surpassing Ford Motor Company.
Industry Sales:
GM estimates that the seasonally adjusted annual selling rate (SAAR) for light vehicles in December was 16.9 million.
Light vehicle sales for the year were an estimated 16.6 million, above the upper end of the 16.0 million – 16.5 million range the company forecasted at the beginning of the year.
"The momentum the economy carried through 2014 accelerated in the fourth quarter," said Mustafa Mohatarem, GM's chief economist. "Car-buying fundamentals remain strong and we expect higher industry sales in 2015."
GM will announce its full-year forecast during the North American International Auto Show in Detroit.