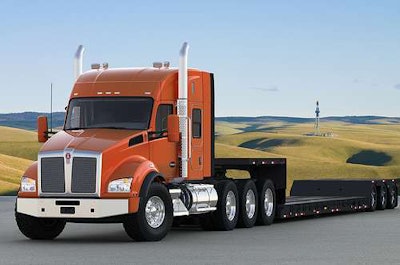 The Kenworth T880 was named the American Truck Dealers' Commercial Truck of the Year this weekend at the ATD Convention and Expo in San Francisco, besting two other finalists, the Peterbilt 567 and the International WorkStar 7600.
The trucks were judged last week by a panel of commercial trucking journalists and Greg Nauertz, a driver for YRC.
The T880 as judged featured the Paccar MX-13 engine. It ranked high in exterior design and style. It also received praise for its interior design. Handling at high and low speeds also scored high marks.
The WorkStar received good marks for aesthetics and its roomy cab and interior layout. The Peterbilt 567 as entered featured a natural gas engine and received high marks for safety.
CCJ's Jack Roberts was on the judging panel for Truck of the Year. Click here to see his takes on the Kenworth T880 and the Pete 567.
ATD at the event also named the 2014 Dealer of the Year, which went to Scott McCandless of McCandless Truck Centers.