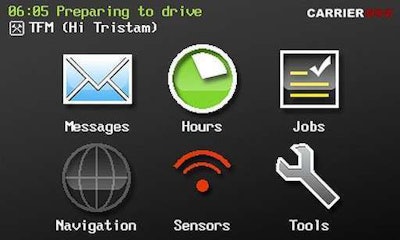 CarrierWeb, a trucking mobile communications provider, announced that sales volume in the United States grew by a record 40 percent in 2014.
To continue to support its customers and sustain rapid growth, the company announced several new staff additions and promotions. CarrierWeb also created a new department, Product Management and Professional Services, to better serve the ever-changing needs of its customers and continue to evolve its mobile communications and trailer tracking technology in the transportation industry.
"As the transportation industry continues to seek technology that improves their operational efficiency, safety, compliance and driver satisfaction, we continue to experience a growth in new business," said R. Fenton-May, President and CEO. "The momentum in the industry and our company's value proposition of providing actionable business intelligence are attracting great talent and we are delighted to welcome our newest team members and recognize key performers with promotions."
The following individuals recently joined CarrierWeb as new staff members:
Tommy Clark, senior director of sales – Southeast: Clark has spent the last 17 years selling fleet management systems to transportation and logistics companies.
Deanna Newcomb, director of field client services: New clients deal directly with Newcomb and CarrierWeb's field client services team during installation and after-sales service.
The following individuals have been promoted following a December meeting by the Board of Directors:
George Dunn, senior vice president – Sales: Dunn, a six-year veteran of CarrierWeb, has 30 years of experience in mobile communications and a broad knowledge of how to use onboard data to improve safety and productivity in the transportation industry.
William J. Newlands, senior vp and chief financial officer: Bill is currently the chief financial officer of parent company e*freightrac and its CarrierWeb group of companies and senior vice president for CarrierWeb.
Trena J. Wade, vice president, inside sales and sales support: As a newly appointed Vice President, Wade takes the helm of CarrierWeb's inside sales team to lead sales efforts and serve as a liaison between prospective clients and implementation teams.
Keith O'Brien, vp of product management and professional services: O'Brien will lead CarrierWeb's new Product Management and Professional Services Department. Keith has been in the transportation industry for over 20 years, the last six of which he spent as strategic product manager for CarrierWeb.