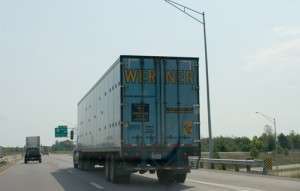 Werner Enterprises announced an agreement with Spireon under which Werner – one of the five largest truckload carriers in the United States-will deploy Spireon's FleetLocate asset and trailer intelligence system.
The deployment program includes outfitting all new dry van trailers as well as an aggressive retrofit program for existing trailers, this year.
Werner's coverage area spans six continents with offices in the United States, Canada, Mexico, China and Australia. It has a diversified portfolio of transportation services that include dedicated; medium-to-long-haul, regional and local van; expedited; temperature-controlled; and flatbed services. The company's fleet consists of more than 7,000 tractors and nearly 24,000 trailers, which are predominantly dry van trailers.
"Our mission is to deliver value to our customers, business partners and shareholders by providing leading-edge, global supply chain solutions that exceed expectations and promote safety while we remain customer-focused and asset-backed," said Steve Phillips, senior vice president of fleet resources at Werner Enterprises. "Our decision to partner with Spireon for trailer intelligence solutions supports that mission."
Phillips added that Werner underwent a one-year proof of concept with Spireon, during which the company experienced a high level of commitment from professional services to onboarding support to installation expertise.
"Spireon really looked at our business and identified ways we could better utilize our fleet and streamline processes to improve our bottom line," he said.
Spireon says its FleetLocate system, powered by its cloud-based NSpire M2M platform, connects fleet owners and managers to "Rich Data," analytics and fleet intelligence to drive:
Higher productivity and turns per trailer
Automation that saves time, money and eliminates error
Better trailer pool management
Opportunities to capture more revenue
Improved driver satisfaction