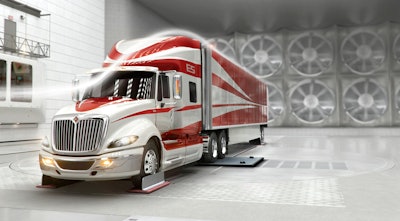 Navistar's OnCommand Connection remote diagnostics system will now be free and standard on all 2007 and newer model International trucks, the company announced this week at the Mid-America Trucking Show in Louisville.
It no longer will be charging a monthly fee for the service, the company announced, and it will be giving new OnCommand subscribers what they call a "telematics credit" — a stipend of sorts fleets can use to buy hardware and data service for a fleet telematics system.
Michael Cancelliere, Navistar's senior vice president for global parts and custom service, said at the company's annual MATS press briefing that 80 percent of trucks on the road are not equipped with a telematics system, something he says Navistar sees as its "opportunity and obligation" to fix.
Cancelliere also says OnCommand does not trap fleet managers into one telematics hardware or software provider, as the system works with nearly all telematics suppliers.
The credit can be used on base model telematics hardware and two years of data service on International vehicles upon activiation of OnCommand, starting July 2015.
Navistar does not yet have a firm dollar amount on how much it will provide, but will have more details in the coming months, it said.
The OnCommand fee waiver and the telematics credit are part of the company's recent "Uptime" efforts, announced earlier this year. Navistar says its focus now from manufacturing through a vehicle's life is to limit downtime with two basic tenets: Keep trucks out of the shop through quality builds, but also to limit dwell time when trucks do need repairs.
"Delivering industry-leading levels of uptime to our customers is more than just building a line of trucks that stay on the road longer," said Bill Kozek, president truck and parts at Navistar. "The 'Uptime' mission at International is our commitment to technology, innovation, tools and services that allow our customers to keep moving forward."
International also announced at the show enhancements to its new International ProStar ES (efficiency spec) and that it is the first truck maker to offer Bendix' new Wingman Fusion active safety system, also unveiled at MATS.
Updates to the ProStar ES include availability of Cummins' new ADEPT powertrain, which includes SmartTorque2 and SmartCoast, announced earlier this week by Cummins at the show.
The ADEPT is centerpieced by the Cummins ISX15 and uses a suite of advanced electronic features that allow the engine to interact with automated-manual transmissions.
It also employs Cummins' SmartCoast.
These features are also available on non-ES ProStar models powered by the Cummins ISX15.
The ProStar ES also is available with Navistar's proprietary N13 engine, coupled with the Eaton Fuller Advantage automated-manual transmission.