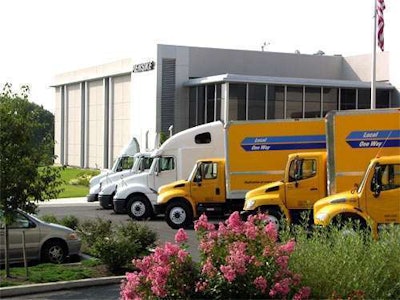 Penske Truck Leasing has been awarded a $400,000 grant from the U.S. Department of Energy to support the company's Alternative Fuel Vehicle (AFV) Demonstration and Enhanced Driver Experience Project.
Matt Krasney, Penske Director of Alternative Fuels, says Penske will use the funds to introduce alternative fuel vehicles to its customer base.
The program will target fleets in Wisconsin, Maryland and Louisiana who are interested in using CNG tractors. Penske will supply the trucks at a reduced cost and much of the support the fleets need to successfully manage them over a 90 day period.
"(Fleets will need to) have them in there long enough to have an idea of how the truck really operates," Krasney says. "(The grant) is really about us creating a strong demo program."
The company is beginning the process of identifying truck leasing and commercial truck rental customers to participate, but Krasney says Penske will target customers who currently don't have natural gas equipment because they may have been deterred by the high vehicle cost and lack of information.
"Penske will walk them through the process, step-by-step," he says. Those steps include helping fleets find fuel and making sure the trucks are only traveling routes that allow them to find more.
"We would partner them up with our fueling partners, and we will even map out their routes," Krasney adds.