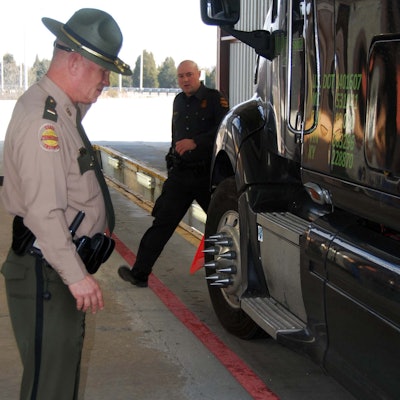 Improving highway safety isn't always about what happens behind the wheel or on the road. As fleets and owner-operators across the trucking industry prepare for the annual Commercial Vehicle Safety Alliance (CVSA) International Roadcheck program, Bendix Commercial Vehicle Systems LLC offers insight on factors that affect the highway safety equation long before the turn of an ignition key: brake system upkeep; component selection and inspection; and technical know-how.
The largest targeted commercial vehicle roadside inspection program in the world, this year's 72-hour Roadcheck takes place June 2-4, and will involve approximately 10,000 CVSA-certified local, state, provincial, and federal inspectors across the United States, Canada, and Mexico. According to CVSA, Roadcheck has encompassed more than 1.4 million roadside inspections since its inception in 1988, resulting in an estimated 318 lives saved and 5,840 injuries avoided.
Beginning with the Brakes
During Roadcheck 2014, nearly 19 percent of vehicles inspected were found with violations leading to them being placed out of service. Brake-related violations accounted for almost half (46.2 percent) of the total out-of-service vehicle violations. Bendix recommends a two-level maintenance approach to help ensure safety and compliance: preventive maintenance in the form of regularly scheduled vehicle review, and pre-trip visual inspections by drivers checking for obvious brake system problems such as loose hoses or leaks.
Regular and thorough brake system review should cover both components and operation:
Examine brake linings for proper thickness and condition (no edge cracks exceeding 1/16 inch in width or 1.5 inches in length; no cracks across the lining face extending through the edges; no missing material exposing rivets or bolts)
Conduct a 90 to 100 psi brake application and listen for audible leaks
Measure chamber stroke at each wheel-end
Drivers can incur fines under CVSA guidelines if more than 25 percent of a truck's wheel-ends are beyond the maximum allowable brake stroke, or out of adjustment.
The Right Parts
During routine maintenance such as brake relining, the right replacement parts are vital to ensure that original equipment (OE) manufacturer requirements are met, as well as compliance standards. The current generation of higher performing drum brakes, for instance, was designed to meet federal reduced stopping distance (RSD) regulations. Maintaining their stopping capability after relining means using high performance friction designed to meet those standards.
Additionally, fleets and owner-operators considering remanufactured brake shoes should choose providers that return the shoes to the shape engineered by their OE, as opposed to those that simply reline shoes with new friction. During their life cycle, brake shoes are subjected to tremendous amounts of force and drastic temperature changes, resulting in deformation. Relining a shoe that hasn't been coined back to its original shape through a remanufacturing process can lead to problems, since the shoe no longer has the correct geometry to provide full contact and stopping power.