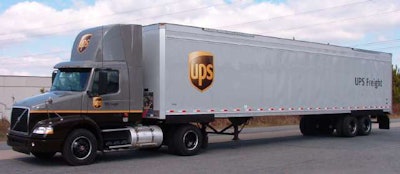 UPS has announced it will buy Coyote Logistics for $1.8 billion, allowing the parcel carrier to expand into the truckload brokerage market.
Coyote is a truckload freight brokerage company that founded in 2006. The company reported annual revenue of $2.1 billion in 2014.
"The brokered full-truckload freight segment is a high growth market and we expect it will continue to outpace other transportation segments," said UPS (No. 1 in the CCJ Top 250) CEO David Abney in a statement Friday. "This high quality acquisition significantly increases UPS full-truckload scale and we are uniquely positioned to take advantage of exciting new revenue growth and synergy opportunities."
During the peak holiday shipping season, UPS often supplements its fleet with contract transportation providers to meet customer demand. Coyote has played a growing role in supporting UPS peak operations over the past few years and the company expects to leverage Coyote's carrier network even further for this purpose in the future.
UPS has also identified revenue growth and fleet efficiency synergy opportunities by hauling shipments arranged by Coyote using existing UPS backhaul capacity within its tractor/trailer fleet.
Closing of the acquisition is expected by the end of August.