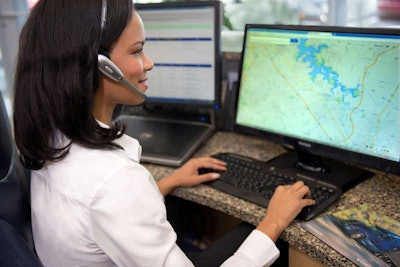 Remote diagnostics surfaced in the late 1990s when telematics systems linked up with electronically controlled engines to transmit fault codes to the office.
In theory, this new conduit would prevent breakdowns and costly repairs. In reality, the fault code data was difficult to decipher by fleet managers and the upcharge in telematics difficult to justify.
That all changed five years ago when Daimler Trucks of North America teamed up with Zonar Systems, a telematics and mobile fleet management software company, to create DTNA Virtual Technician. The diagnostics service became standard on all Freightliner trucks with EPA 2010 Detroit and newer engines.
Whenever a fault code or "check engine" light appears, experts in Detroit's Customer Support Center (CSC) review and provide information to the vehicle owner and help schedule a repair, if necessary.
Other heavy and medium-duty truck and engine manufacturers followed suit. About two years ago, for example, the Volvo Remote Diagnostics and Mack Guard Dog Connect offerings began using their own hardware for telematics and a service event management platform from Decisiv to connect everyone involved in each case a fault code appeared — the call center, fleet and service provider.
Has the OEM use of telematics caused fleets to re-evaluate and re-prioritize the value of mobile technologies? Is remote diagnostics the killer app you have been waiting for?
---
FOLLOW THE MONEY
---
"In terms of what fleets can save in maintenance costs, the idea of a guy standing there with a part ready to go is more often than not a fantasy. Instead, clients that are making the most of their investment in telematics are doing so because they have the information to change how they run their core operations." — Stuart Kerr
The concept of remote diagnostics may sound appealing, but the return on investment for telematics comes primarily from operations and not from the maintenance, says Stuart Kerr, senior vice president of Enterprise Business for Fleetmatics.
"In terms of what fleets can save in maintenance costs, the idea of a guy standing there with a part ready to go is more often than not a fantasy," he says. "Instead, clients that are making the most of their investment in telematics are doing so because they have the information to change how they run their core operations."
Fleetmatics is one of the largest "pure play" telematics companies with approximately 28,000 customers that manage nearly 600,000 vehicles combined, he says. Its telematics system, named Reveal, is installed in vehicles and uses Apple or Android devices for the display.
Reveal can report fault codes and other engine data, and Fleetmatics is "always open to talking about a partnership" with OEMs, he says. But there is also an advantage to being neutral. Most fleets operate a mix of vehicles and want telematics systems that work equally well for all makes and models.
Large fleets, in particular, want telematics systems that can put the location and status of vehicles and drivers in context for their business operations. The integration of telematics data with payroll, fuel purchasing, work order management and other business systems gives visibility across the enterprise and delivers maximum returns, he says.
---
SOCIAL TELEMATICS UP AHEAD
---
About two years ago, Ananth Rani looked at the telematics market and wondered if it was possible to offer anything different. GPS telematics systems have been around for more than 15 years and their functions were basically the same, including the reporting of fault codes.
As co-founder and president of Azuga, he decided to start by hitting a low price point; Azuga uses a "plug and play" OBDII device for light and medium-duty vehicles. The small device, made by Danlaw, is deployed in three million vehicles and used by insurance companies like Progressive to monitor driving behaviors and offer safety discounts to their customers.
He then designed new cloud-based telematics applications that engage drivers in competition, gamification and rewards. Azuga calls its niche "social telematics." Since opening in May, 2013, the company has signed 1,000 fleet customers that manage about 50,000 vehicles, he says.
The low price is what initially sparked the interest of Aaron's, a well-known specialty "rent to own" retailer. To date, Aaron's fleet has installed Azuga in 2,600 of its 3,000 trucks that deliver furniture, consumer electronics and home appliances to customers.
Utilization of vehicles was the starting point for telematics. Most of Aaron's delivery trucks are 14-foot Isuzu straight trucks rated at 12,000 lbs., and most stores have two assigned to them. Azuga helped answer the question: do stores really need both?
"We made sure stores understood that trucks are there to be used. If they are not used, you don't need it," says Lewis Allen, senior manager of fleet operations at Aaron's.
Next on the ROI checklist was idling, fuel economy and speeding. Regional managers for Aaron's review reports on these items with store managers.
At present, Aaron's does not issue company phones to drivers to use Azuga's social telematics app, but that is "something we are going to look at," he says. "We definitely see a value in it."
As for fault codes captured by Azuga, Aaron's plans to send them to its truck leasing and fleet management provider.
Remote diagnostics may not be the main reason fleets invest in telematics, but now that OEMs have the systems in place to support it, why not take advantage?
One of the largest telematics providers in the trucking industry, Omnitracs, has seen rapid growth in its Fault Monitoring application during the last year. Omnitracs does not have an exclusive partnership agreement with an OEM. Instead, the company has been working with all OEMs to provide mutual fleet customers with diagnostics on all makes and models of vehicles that go beyond the standard SAE descriptions of fault codes, delivered through a single interface.
"If a fleet manager has three different types of vehicles, he does not want to have to go to three different interfaces," says Dan Speicher, chief technology officer.
OEMs are also using the diagnostics feeds from Omnitracs to supply their own remote diagnostics and uptime services.
"We are somewhat dependent on one another for the success of fault code sharing," he adds.
And now that telematics hardware is already installed in vehicles at the factory to do remote diagnostics, fleets can turn on additional applications like tracking, messaging and electronic logs as they see fit.
For more details on the onboard diagnostics offerings with OEMs and telematics providers, click on one or more of the following options: