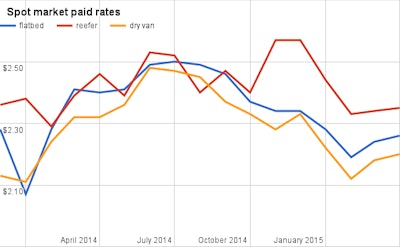 Per-mile spot market rates in all three major truckload segments fell in July from June, according to monthly rate data from Truckstop.com. The declines, however, are typical for July (see the chart above) and may not reflect market rate conditions as much as they do lower fuel surcharges corresponding with lower fuel prices.
Rates in all three segments were also a dime or more below where they were last July, both a reflection of an exceptionally strong July 2014 and the big drop in diesel prices since.
Paid rates, which refers to averages of verified rates paid to carriers, in the flatbed segment saw the biggest month-to-month drop, falling 6 cents to $2.26. Posted rates, the average of pre-negotiated rates posted by brokers and shippers, fell 9 cents to $2.09. The near-20-cent gap between the two averages could be a sign of a market tilted toward carriers' favor.
Paid reefer rates in the month fell 5 cents to $2.33, while posted rates plummeted, down 22 cents to $2.14.
Reefer carriers seemingly continued to have market leverage in negotiations, pulling the posted rate higher.
Van, likewise, continued to have negotiating leverage too in the month. Paid rates in the segment averaged $2.16 in July, a four-cent drop from June's average. Posted rates in the segment fell 17 cents to $1.84 — creating a 32-cent gap between posted and paid rates in the segment.
Here's a look at paid vs. posted rates for all three segments in the month: