CCJ Indicators rounds up the latest reports on trucking business indicators on rates, freight, equipment, the economy and more.
[gt_divider type="dotted"][/gt_divider]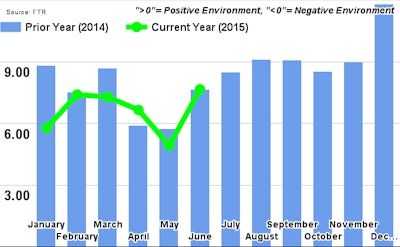 Trucking conditions jump, expected to continue to gain: FTR's Trucking Conditions Index jumped 56 percent in June from May, FTR reported this week, pushing it to signal the most positive conditions for trucking companies in 2015. Freight slowed in the second quarter, FTR reported, but rates remained strong.
Tightening regulations and continued economic gains should push the index readings even higher through this year and next, FTR says.
"It was a positive sign for trucking that the index rebounded in June. May was the lowest level in 3 years, but June was the best month so far in 2015," said FTR's Jonathan Starks. "Continued declines in fuel prices during July and August should help to keep the index elevated as the industry prepares for the fall shipping season."
[gt_divider type="dotted"][/gt_divider]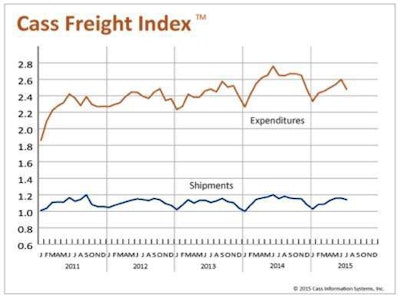 Shipments, freight spending down in July: Both the number of freight shipments and the amount of freight expenditures in July fell from June, according to Cass' monthly Freight Index reports, continuing their recent downward trajectory.
However, the recent downslides are in line with seasonal trends. Both shipments and expenditures in July 2015 were below July 2014's numbers, though that's a tough comparison, Cass says: "There should be an element of caution when comparing 2015 results to 2014 since last year was the best year the freight sector has experienced since the recession."
A stronger outlook for consumer spending, however, could reverse the trends in the coming months, Cass says.
[gt_divider type="dotted"][/gt_divider]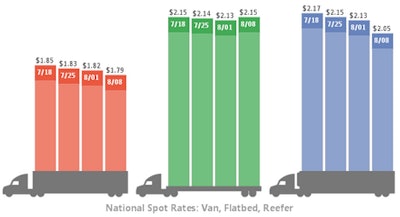 Van, reefer see rate declines, flatbed up: Though the amount of freight for the week of Aug. 2-8 increased for van and reefer segments, rates in both fell, according to DAT Solutions' weekly rates report. Reefer saw a sizable 8 cent week-to-week drop, while van rates fell 3 cents. Flatbed, however, rose 2 cents in the week.
DAT blames declining fuel prices and subsequent fuel surcharges as the culprit for the rate declines. They and others continue to report an uptick in the linehaul portion of truckload rates.