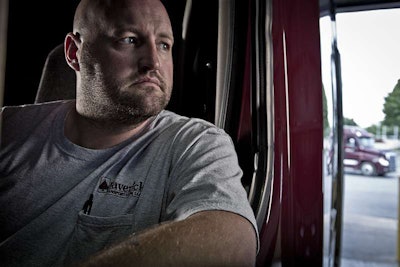 A driver shortage, now estimated at 40,000, is causing motor carriers to fine-tune their strategies to retain drivers.
Besides offering better pay packages, benefits and incentives, fleets are looking to influence the human factors that cause and contribute to turnover.
Factors like perceptions and motivational behaviors can be far more complex to manage than drivers' home time, miles or model year of equipment. Despite the odds, a new wave of products and services aims to do just that.
Driver retention products have a range of options from rewards programs to satisfaction assessment tools and predictive modeling.
Driver rewards
Driver rewards and loyalty programs are used by 45 percent of fleets according to a Sept. 3-4 survey by CCJ. The programs typically work by rewarding points for attaining periodic goals and milestones in categories like safety, compliance, fuel savings and tenure. Drivers redeem their points towards non-cash items.
A growing trend is to have a third parties administer these programs.
Wolfe Trucking, a 36-truck carrier based in Van Nuys, Calif., decided to end its own rewards program due to accounting problems, among other reasons. Drivers were arguing about the amount of points they were being rewarded.
"It almost became a full time job for someone to keep track of all the information and to keep the drivers happy so they wouldn't quit over the bonus plan," says Jack Wolfe, chief financial officer.
Approximately 10 percent of fleet that have a rewards program now use a third party, the study found.
"We have found that a well-structured rewards program with obtainable rewards for a driver can truly effect turnover," says John Elliott, chief executive officer of Load One, one of the five largest ground expedite carriers in North America.
Load One has been using a rewards platform from Stay Metrics for three years. "It is not a magic bullet but it helps to make companies with good culture even better," he says.
Fleets that run their own rewards program rated the effectiveness a 7.25 average on a scale of 10, with 10 being the most effective. Fleets that have a third party manage their program give their program a score of 7.8.
The study, which had 109 respondents, also found that rewards programs are the most widely used by fleets with between 50 and 500 trucks:

Tim Hindes, chief executive officer of Stay Metrics, says the company's own research shows that drivers who are engaged in a rewards program — specifically those who login to the rewards site it administers for carriers at least three times per month — have a 24 percent lower turnover rate.
Feedback
Companies are also starting to use technology to obtain feedback from drivers to identify strengths and weaknesses in their recruiting and retention practices.
A company named Workhound recently created a mobile app and cloud based management tool. Its app aggregates feedback data from drivers and shares insights that companies can use to better manage their relationships with drivers.
In addition to a rewards platform, Stay Metrics acts as a neutral third party to obtain feedback at critical points in the employment lifecycle of drivers. The company interviews drivers at the 7 and 45-day period of employment as well as conducts an annual driver satisfaction survey, exit interviews and custom research.
Relationship management
Customer relationship management (CRM) software, such as Salesforce.com, is a popular way to streamline the sales process. Fleets can now use a similar application to manage driver relationships.
Tucker Robeson led the startup of CDL Helpers, a company that created a cloud-based Fleet Relationship Management application. The app is designed to "keep a rolling log of the interactions" with drivers, Robeson says, to gather useful information and ensure that interactions follow a consistent — and unique — process for each carrier.
Over time, the app is able to benchmark conflicts entered in the system, like a driver being frustrated with a dispatcher, against the long term success rates of drivers. This serves as a useful predictor for how many hours the company has to neutralize the threat before it escalates and leads to turnover, he says.
Predictive modeling
Having more data on drivers may all be for naught without turning the data into insights that lead to quick, corrective actions to achieve better results. That's the premise behind using predictive modeling.
One of the first companies to approach driver retention from this unique angle was Omnitracs Analytics. In 2005, the company — named FleetRisk Advisors at the time — created a model for fleets to predict which of their drivers were likely to be involved in an accident in the next 28 days.

After a successful debut, the company created a Driver Retention model that mines thousands of data elements to identify subtle changes in driver behavior. These changes are used to predict drivers that are the most likely to leave.
Its model recommends the topics to discuss with each driver to alleviate the source of stress, anxiety or frustration that is causing the change in behavior and attitude.
Omnitracs Analytics, which is a subsidiary of mobile software provider Omnitracs, continues to expand the data sources to make its predictions more accurate and timely. For instance, it can now identify patterns in the messages sent by drivers and by driver managers through the in-cab MCP platform.
Certain words and the frequency of messages are highly predictive of turnover and critical safety events, says Dean Croke, vice president of Omnitracs Analytics.
Advanced predictive models of this type require a lot of data to produce meaningful results. To date, fleets that are using this technology have been on the large end of the spectrum.
As the driver shortage continues, the market for technologies and services designed to help fleets diagnose and treat the causes of turnover are likely to continue gaining traction.