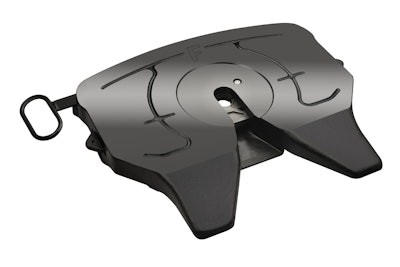 Fontaine Fifth Wheel has issued a recall on all Ultra LT model fifth wheels manufactured between 2009 and 2013. The recall was issued through the National Highway Traffic Safety Administration Aug. 12.
According to the recall, improper coupling techniques could over time result in damage to the fifth wheel and the locking mechanism, which could result in the locking mechanism not properly engaging. There are 6,800 fifth wheels included in the recall.
Fontaine says the improper coupling techniques that could lead to this failure include "high coupling, a failure to conduct a proper visual inspection, a failure to ensure the fifth wheel is in the fully open and ready to couple position prior to coupling, and failure to follow recommended maintenance practices."
Fontaine Fifth Wheel will replace for free all Ultra LT fifth wheels in the field with Ultra NT model fifth wheels. In the interim, owners and operators should inspect each of the Ultra LT fifth wheels in their fleets to look for signs of any damage, including bent operating handles, wedge guides, locking wedges and locking jaws, Fontaine says.
A crash in Ohio in January 2014 with an Ultra LT fifth wheel resulted in two fatalities, which is what led to Fontaine investigating these models. The Ohio State Highway Patrol's investigation into the accident, however, found the fifth wheel and its locking mechanism to be fully functional. Later tests to the fifth wheel confirmed its functionality, Fontaine says.
Fontaine reached out to NHTSA in May 2015 to discuss conducting a field campaign to replace the remainder of the 2009-2013 Fontaine Ultra LT fifth wheels sold in the United States in response to continued field observations of damaged fifth wheels.
According to NHTSA, Fontaine did not consider the issues as safety-related defects, but the company had decided to replace the units to provide more robust feedback to operators, to reduce the potential for operator error and to eliminate the need to continue to stock parts and repair kits for a discontinued product.
Fontaine says special care should be taken to inspect fifth wheels after known or suspected improper coupling attempts and instances in which preventative maintenance has not been performed per Fontaine's instructions.
"Where the damage to the fifth wheel caused by improper coupling procedures is severe, drivers may notice during their required visual inspection of the fifth wheel that the locking mechanism of the fifth wheel does not extend across the entire throat of the fifth wheel. In some instances where the fifth wheel locking mechanism has been damaged, the driver may notice excessive slack in the fifth wheel connection as he/she operates the vehicle," the recall states.