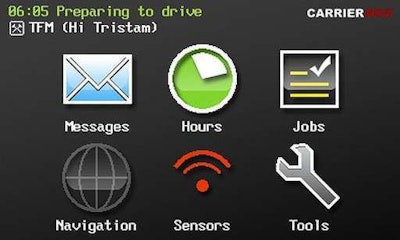 CarrierWeb, a trucking mobile communications provider, announced new mobile options using the Android platform that complement its in-cab and trailer telematics systems.
"The new Android products extend the range of mobility for our in-cab, reefer and trailer management solutions while delivering the same driver-preferred workflow and real-time data to CarrierWeb's back office and integrated TMS offerings," said R. Fenton-May, chairman of CarrierWeb.
CarrierWeb's telematics device, called the e-hub, mounts inside the cab or trailer to supply real-time tracking, vehicle and driver communications to fleets' back office systems.
The latest version of the e-hub now communicates with CarrierWeb applications on a variety of mobile display options via Bluetooth. It also serves as a mobile Wi-Fi hotspot for connecting other devices and applications, such as a tire pressure monitoring, to a wireless vehicle network, he explained.
The new Android options extend the same applications from its existing in-cab Windows display unit — messaging, DVIR and other driver workflows — outside the cab onto tablets and smartphone devices. CarrierWeb will also offer a suite of integrated trucking apps with third parties. It is already working with apps from TruckerPath, Drivewyze and ALK CoPilot Truck, he said, and will soon be using the new Android platform to offer a low-cost electronic logging device to owner operators and small fleets.
Specifically, the new products from CarrierWeb are:
CarrierMate 7000: A new version of CarrierWeb's fixed, in-cab CM 5700 display unit with a dual-core processor and Android operating system. The CarrierMate 7000 will be integrated with other Android transportation apps as customers require them;
CarrierWeb Portable Assistant: A new smartphone or tablet solution that allows the driver to perform out-of-cab activities that include messaging and eDVIR with the data reporting directly to the CarrierWeb back office database;
CarrierMate XL: A larger, 8-inch Android tablet that mounts in the same in-cab bracket as the CM 5700 and the new CarrierMate 7000 fixed display unit. This new tablet communicates with other on-board devices through the CarrierWeb e-hub via Bluetooth communication.
With the new mobile offerings, CarrierWeb says it is better able to serve the ever-changing needs of customers while being at the forefront of mobile communications and trailer tracking technology in the transportation industry.